COMP student co-founded an organic chemistry game while in undergraduate school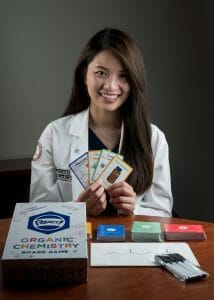 Forget quick study guides and model kits to study organic chemistry because there is a new way to study one of the more difficult science classes at the undergraduate university level.
Second-year College of Osteopathic Medicine of the Pacific (COMP) student Jami Wang was one of three students, while attending UC Berkeley, to found and develop a board game to teach organic chemistry called "React!"
Organic chemistry is the study of carbon compounds and has long been seen as one of the most difficult classes required of prospective medical students, according to Brainscape.com. Wang and her collaborators created the board game to help students and make quality STEM education accessible and fun.
"We wanted to fix the pre-health dropout rate of the disproportionately affected minority students from low-income communities who didn't have the best academic support," Wang said. "They arrive at a large University like Berkeley without any organic chemistry background, which sets them behind early on."
Fellow co-founders of React! are Prerak Juthani and Billal Ahmed, but also include many other team members as well as faculty advisors.
The team looked to expand their impact to more than just their university, as well as to other health care professions students by tackling this difficult topic in a different way, said Wang.
After getting a prototype finished, they began a Kickstarter campaign where they got enough money to manufacture the game.
"I was overwhelmed by how much bigger the game became," Wang said. "It started as a simple classroom project to help some students and now it's real and we launched publicly."
The game is designed for medical, college or high school students learning organic chemistry. It became broadly available to buy online at their website in April 2019. There are plans to sell it on Amazon in the future.