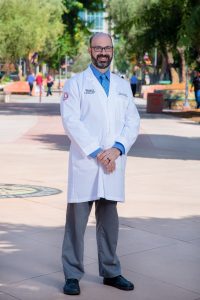 Western University of Health Sciences College of Osteopathic Medicine of the Pacific (COMP) Associate Professor Brian Loveless, DO '02, has been selected the American Osteopathic Foundation's (AOF) 2018 Physician of the Year.
AOF's Physician of the Year is awarded to an individual whose extraordinary accomplishments and service bring a sense of pride to the profession, and whose actions promote the science of medicine and the betterment of public health. This individual achieves greatness through integrity, commitment to service and community involvement, according to the AOF.
Loveless will be awarded this achievement during AOF's 2018 Honors Gala on Friday, Oct. 5, 2018 at the Marriott Marquis in San Diego, California.
"The American Osteopathic Foundation represents more than 130,000 osteopathic physicians and students in the country, so to be selected physician of the year out of an amazing group of doctors was a big surprise to me," Loveless said. "I think the award is a recognition of the amount of hard work put towards teaching and seeing patients, volunteering and trying to live out that model of what an osteopathic physician looks like, which is being caring, compassionate, humanistic."
Loveless said that an award like this reflects on two groups of people, mentors who he modeled his practice and career after, and those who supported him, which are his family.
COMP Dean Paula M. Crone, DO' 92, and COMP Chair of Faculty Assembly Raj P. Kandpal, PhD, nominated Loveless.
"Patients are always the focus of all that Dr. Loveless does. Be it in the classroom, a community health fair or outpatient clinic, his devotion to patient's wellbeing is in full display," they wrote in the nomination letter to the AOF. "His concern for patients is evident when he guides future physicians in the classroom for safe and effective practice of manipulative treatment, his care for patients is obvious when he attentively listens to his patients during outpatient visits, and his attention to details is apparent when he is performing physicals on young athletes."
Loveless has been a physician educator at COMP since 2011 and is an alumnus from the Class of 2002. He is currently an associate professor of Neuromusculoskeletal Medicine/Osteopathic Medicine (NMM/OMM) with hospital appointments at Montclair Hospital Medical Center, Chino Valley Medical Center and Kaiser Permanente Riverside Medical Center.
Loveless is currently the immediate past president of the Osteopathic Physician & Surgeons of California (OPSC). During his time as president, he supported students and their ability to rotate at certain hospitals that had previously been closed to them.
In the nomination letter, it stated he also worked with the national organization, the American Osteopathic Association, by responding to an op-ed written by Virginia Hefferman in the Los Angeles Times on January 26, 2018. He forcefully refuted falsehoods and inaccuracies asserted by the op-ed author and methodically educated the readers about osteopathic manipulative medicine and the history of osteopathy. In the piece penned by Loveless, he "dispels the misperceptions and demonstrates his insightful advocacy of osteopathy."
Drs. Crone and Kandpal wrote that "his patients admire him; his colleagues look up to him and his students aspire to be like him."