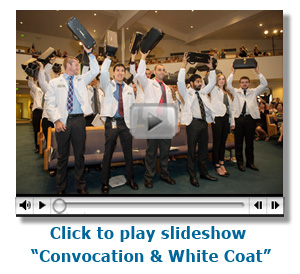 Western University of Health Sciences' newest class of Northwest osteopathic medical students are in "a trending profession" that comprises a growing percentage of U.S. physicians, and reflects the diversity of the communities where primary care is needed the most.
That was one part of the message delivered by John W. Becher, DO, president of the American Osteopathic Association, who was keynote speaker at the fifth Convocation and White Coat ceremony for WesternU's College of Osteopathic Medicine of the Pacific-Northwest (COMP-Northwest) Saturday, August 1, 2015. The ceremony was held at Lebanon's First Assembly of God Church.
Convocation marks the opening of the academic year at WesternU. The white coat ceremony, where students formally don the short jackets they frequently wear while in school, acknowledges and honors their entry into the health professions. The ceremony in Lebanon will be mimicked, on a larger scale, for students at WesternU's main campus in Pomona, California. Nine colleges and more than 1,000 students will take part in Convocation and white coat ceremonies there on Saturday, August 8.
Becher, a board certified emergency physician, is director of osteopathic medical education at AtlantiCare Regional Medical Center in Atlantic City, N.J. He also is a professor at the Philadelphia College of Osteopathic Medicine, and serves as chairman of that institution's Department of Emergency Medicine. He was installed as AOA president in July of this year.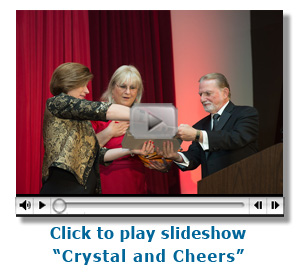 "This day symbolizes your commitment to the education that will provide you with the knowledge and tools to offer high-quality osteopathic medical care," Becher told the 108 newest COMP-Northwest students. "There are many questions, I'm sure, that are going through your mind at this time. Will I be able to handle the pressures of being a medical student, juggling places, studying while trying to take a little bit of time for my social life and my family? Will I be prepared to care for patients when the time comes – real people, with real health problems?
"Believe me, it is only natural for these questions to come to mind. But as you continue to prepare yourself for your career as a DO here at COMP-Northwest, you will gain more knowledge and confidence with every day. You will be ready. I have every confidence in you."
Becher also noted that the ranks of osteopathic students and physicians are diverse: The number of minority students is growing at a 15-percent clip, and of all practicing osteopaths under the age of 45, 44 percent are female. Demand for osteopathic physicians also has never been higher, not least because of the ongoing shortages of primary care physicians. About 60 percent of osteopathic physicians practice in primary care, he said, and many are trained in community-based programs, "the kind of care that helps improve quality and reduce cost."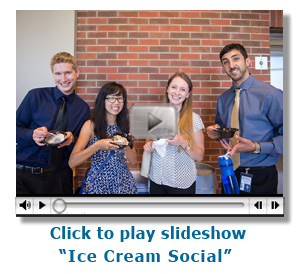 "Your journey as an osteopathic medical student will be challenging, no doubt about it," Becher concluded. "But having walked in your footsteps previously, I can guarantee you, you're stepping onto a very rewarding path – a path that will allow you to leave your mark on the world, and to improve the lives of the people you are privileged to care for."
Erik Szeto, DO, served as the white coat ceremony keynote speaker. He remembered pretending to be a doctor at age 5 with a little hammer and stethoscope.
"I felt so powerful. I thought I would go out and do something," Szeto said. "I thought I was Robin Hood. That probably wasn't the best reason to be a doctor, but it was good enough for me, and I was 5."
Szeto's related an episode from his childhood, when his dog, Sam, became ill and had to be taken to a veterinarian. Szeto, deeply worried about his beloved Doberman, said he immediately felt better when the doctor touched his hand and talked to him about Sam getting older and needing some help with a kidney problem.
"She wore a white coat," Szeto emphasized. "She looked like an angel to me."
He also told a story about a 17-year-old girl whose father lost his job, became depressed and, in a psychotic episode, attacked her mother with a knife. He was arrested and sent to a mental hospital. The mother had to stay in a hospital for a long time. The teenager was left alone, unable to finish high school and suffering from mental issues.
"Just being a good doctor is not enough. The world is too big for us," Szeto said. "You have to get involved in the community where you serve. You have to try to make your community better, a better society for all. Today when you put your white coat on, you have chosen a special path in your life. A life of honor, of commitment, of service. After all these years as a doctor, what was good enough for me when i was 5 is, in fact, still good enough for me today."
First-year COMP-Northwest student Morgan Florek was born and raised in Lebanon and graduated from Lebanon High School in 2010. She left town to attend The State University of New York at Potsdam just as COMP-Northwest was opening.
"I've seen huge improvements all over my community," she said. "Community members are working at WesternU and my little cousins are going to (WesternU's) mini medical program. I feel very lucky this school was built here. I was so happy to come back to this area. I see this school as such a great family, and they're so into community. They make you want to be there. I know they're doing great things. I have seen it happen, and I want to be part of that."
Laurie Reed was born and raised in Lebanon, graduating from Lebanon High School in 2007. She left Lebanon to attend the Oregon Institute of Technology.
"I feel like this school being in Lebanon isn't just good for Lebanon, it's good for students as well," Reed said. "It's a small, quiet town, family-oriented, which is helpful for students like me who have a family."
Lebanon is a special place because of the people who live here, Reed said.
"I lived in Medford before coming here. In Medford when you're shopping, people don't make eye contact. Here, people look at you, smile and often ask about your kids," Reed said. "I didn't notice that about Lebanon until I came back."
First-year student Christopher Betzing has wanted to be a doctor since he was a little boy, said his mother, Patti Perigo. COMP-Northwest made an immediate impression — he interviewed here and canceled his other appointments, Perigo said. The faculty looks at students as colleagues, and they want to help the students find success.
"Other places, you're on your own," she said. "He fell in love with it. It's such a good fit. He said, 'This is where I know I can succeed.'"
The faculty is very responsive, Perigo said. "They're here to help you become the best doctor you can be. It's what makes WesternU unique."
"It's been a long journey, and we finally see the light at the end of the tunnel," Perigo said. "I'm so thrilled. It's taken a long time. We can see the fruits of his labor, which is wonderful. We watched his maturity grow. The compassion he's learned by doing all of the community clinics and shadowing is going to benefit him as a doctor. I think he will be fabulous. He's the kind of doctor I'd like to go to."
First-year student Nam Nguyen, from Beaverton, Oregon, left Oregon to attend the University of Washington, then worked at Fred Hutchinson Cancer Research Center in Seattle.
"I knew I wanted to go to this school. It's close to home. I knew I wanted to stay in the Pacific Northwest," he said. "I felt a really good connection from the moment I walked in and sat in Lecture Hall 1, more so than the other schools I interviewed at."
Putting on a white coat for the first time will mean a lot, Nguyen said.
"It's such a weight lifted off my shoulders. All the hard work comes together for this one ceremony," he said. "It really does feel like the beginning."