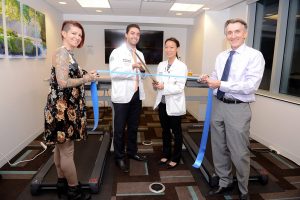 Two treadmill desks in Room 2042 of the Health Education Center are available for everyone on Western University of Health Sciences' Pomona campus to use. The College of Osteopathic Medicine of the Pacific (COMP) held a ribbon-cutting ceremony Tuesday, Nov. 15, 2016 to promote this resource and encourage everyone to utilize the exercise equipment.
COMP Student Executive Board Vice Chair Karim Fahmy was inspired by COMP-Northwest receiving a donation of treadmill desks in 2015 and collaborated with College of Dental Medicine student Diana Liao, DMD '18, who was Student Government Association (SGA) president at the time, to secure SGA funding to buy the two desks as an SGA class gift. With help from COMP Chair for the Department of Clinical Sciences Marcel Fraix, DO, Director for University Student Affairs Christy Ho, MS, and many others, the room is now open and ready.
"It's amazing to see this idea come to fruition," Liao said. "We hope that people utilize it and continue to build traditions here."
"This has really been a community effort," Fahmy said. "It goes to show how willing our administration, faculty and staff are to make this happen. Everyone was on board from the beginning."
You must log into Blackboard, watch a video, pass a quiz and sign a waiver before using the treadmill. Click here to start the process.