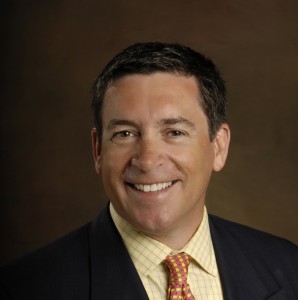 The American Osteopathic Foundation (AOF) has named College of Osteopathic Medicine of the Pacific Associate Dean for Graduate Medical Education J. Michael Finley, DO, as the recipient of the 2015 W. Douglas Ward, PhD, Educator of the Year Award. Finley was selected for his impact on graduate medical education opportunities for osteopathic residents, and his dedication to promoting the osteopathic profession.
Dr. Finley will receive the award on Oct. 16 at Honors 2015 in Orlando, Florida, AOF's annual gala, where the best and brightest in the osteopathic profession are recognized each year through scholarships, awards and grants.
A passionate educator committed to osteopathic medicine, Dr. Finley oversees graduate medical education for the Western region of the United States as the Chief Academic Officer for OPTI-West Educational Consortium. He has mentored hundreds of students and residents at Western University of Health Sciences in Pomona, California.
Dr. Finley is an invited lecturer at the University of California, Riverside Haider School of Medicine, and is a third-generation osteopathic physician.
"My dad was a great role model and mentor," Dr. Finley said. "I was in high school before I was aware of DOs and MDs. Up until then, I just knew there were doctors and my dad was one of them."
A Detroit-area native, Dr. Finley received his undergraduate degree in microbiology and public health from Michigan State University. Like his father and grandfather before him, he obtained his DO degree from Chicago College of Osteopathic Medicine, in 1986. He completed an internal medicine residency at Detroit Osteopathic Hospital in Highland Park, Michigan, and a rheumatology fellowship at the Loma Linda (California) University Medical Center.
Dr. Finley says his foray into education was accidental. His father, a general surgeon, was in the generation when it was hard for DOs to access residency training, particularly in surgery. So DO surgeons had to train future surgeons.
"He always had residents around when I was a kid," Dr. Finley said.  When he started his first job at a private rheumatology practice in California, he didn't think it was strange that a lot of residents rotated through—it was just as he had always experienced with his father. That was the formal beginning of his track into academics.
Finley went on to become a member of the faculty of UCLA School of Medicine and Loma Linda University School of Medicine, chair of the department of internal medicine at COMP, and Internal Medicine residency program director at Arrowhead Regional Medical Center in Colton, California.
Dr. Finley also has served the profession on a national level, as a member of the U.S. Food and Drug Administration, Arthritis Advisory Committee; the American Osteopathic College of Internists Board of Directors (ACOI); as chair for the American Osteopathic Directors and Medical Educators (AODME) Council on OPTI; the National Board of Osteopathic Medical Examiners (NBOME); and the editorial board for the JAOA- The Journal of the American Osteopathic Association.
Among his many accomplishments, those he is most proud of include his ability to establish more than 45 new residency programs, totaling 540 positions, where they didn't exist before . These residencies have made an impact on communities and careers. He's also proud of his family: wife of 26 years Michelle "Shelley" Miller, and two teenage sons, RJ and Casey.