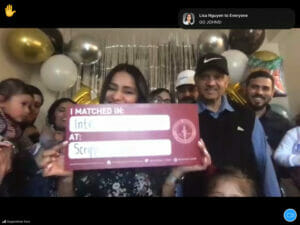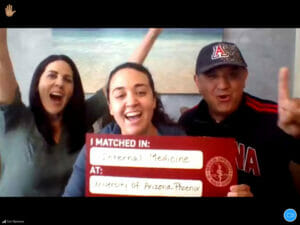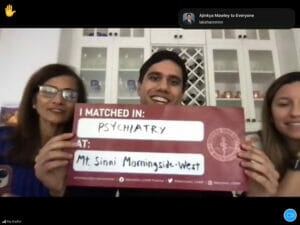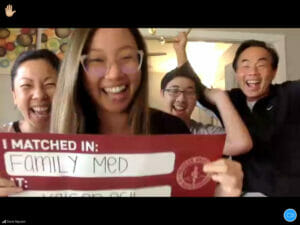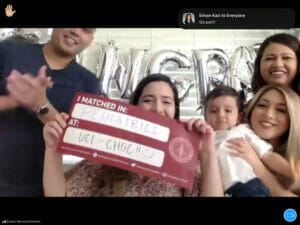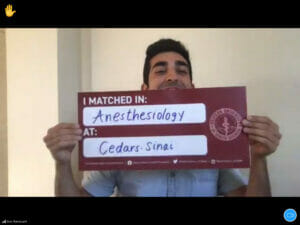 Their journey to becoming Doctors of Osteopathic Medicine is nearly complete, and Western University of Health Sciences College of Osteopathic Medicine of the Pacific (COMP) and COMP-Northwest students reached a pivotal milestone by matching into residencies.
Match Day is celebrated across the U.S. as fourth-year medical students learn which U.S. residency programs they will train in for the next three to seven years. The Match is hosted by the National Resident Matching Program (NRMP), through which medical students obtain residency positions in accredited training programs.
COMP and COMP-Northwest celebrated Match Day virtually on Zoom and YouTube Friday, March 18, 2022, providing a way for fourth-year students to share their good news with classmates, faculty, staff, friends, and family.
"Class of 2022 – May you always have resiliency, tenacity purpose and courage. May you always remember at the end of every action, there is a patient. May you embrace your destination, wherever your match may be taking you, and know that you are needed where you are going and that you are going where you are meant to be," said COMP and COMP-Northwest Dean Paula Crone, DO '92. "May you always be healthy, happy and wise. And may you always know that you will have a special place in both Paul's and my heart and the hearts of all of your faculty and staff, and that you always have a home here with us at COMP and COMP-Northwest and WesternU. We are so proud of you and everything that you have accomplished over these last four years."
WesternU President Robin Farias-Eisner, MD, PhD, MBA, told the students he knows that they are leaders who represent WesternU's DNA, which is coveted, unique, and special.
"We are all united together behind you and to support you," Farias-Eisner said. "I firmly believe that humanism, this holistic approach that you have been so trained to bring forward to the world, is exactly what we need. The timing is perfect for your skills."
WesternU Senior Vice President and Provost David Baron, DO, MSEd, said he wanted every student to be proud of their College, their University, their profession, and their chosen specialty.
"That sense of pride is something that will keep you not only motivated, but passionate to do the right thing," Baron said. "Never lose that passion for what you're doing. And always strive to be part of a solution, regardless of the situation, and never part of the problem. All the best."
COMP placed 219 Pomona students through residency matches, including the military, urology, and NRMP matches, which is a 99% placement rate, said COMP Assistant Dean for Graduate Medical Education Lisa Warren, DO '01, MBA. Of those students, 55% matched into primary care, which includes family medicine, internal medicine, and pediatrics.
"I am so proud and impressed with our COMP Pomona Class of 2022," Warren said. "They are a dedicated group of medical students who are going to be excellent role models and leaders in their residency programs and communities."
COMP and COMP-Northwest's match rates are higher than the national match rates for both DOs and MDs. The percentage of U.S. MD seniors matched to PGY-1 (first-year) positions in 2022 is 92.9, and the percent of U.S. DO seniors matched to PGY-1 positions is 91.3, according to the National Resident Matching Program.
One hundred COMP-Northwest students placed through residency matches, including military and NRMP matches, for a 98% placement rate. Of those students, 62.7% matched into primary care.
"It has been an honor and a privilege to join this incredible group of medical students on their journey to this moment," said COMP-Northwest Office of Career and Professional Development Director Elisabeth Guenther, MD, MPH, FAAP. "They bring compassion and resilience to their residency programs and will make a true difference in the lives of their patients."
Each student was given the opportunity to be spotlighted on screen to announce where they matched. Many appeared on screen with festive and colorful decorations in the background and very happy family, friends and classmates cheering them on.
Fourth-year COMP-Northwest student Austin Kleint was born and raised in Lebanon, Oregon. He discovered he wanted to be a doctor around the same time WesternU decided to build a medical school in Lebanon.
"Over the last several years I have seen Lebanon and COMP-Northwest turn into a beautiful, symbiotic relationship. The town and medical school do so much to help each other," Kleint said. "Every student is required to do community service, but most students do far more volunteer hours than required."
Kleint donned a cowboy hat after announcing that he matched into a pediatrics residency at Baylor College of Medicine in San Antonio, Texas.
"Once I decided to go into medicine, I knew I would be going into pediatrics. I appreciate the continuity of care, taking care of kids from birth through high school. That age is such a pivotal part of development and one of my goals is to help establish healthy habits for my patients that will last a lifetime," Kleint said. "Another reason I am drawn to pediatrics is because of the involvement of pediatricians in their community. I desire to make my community a better place."