Commencement 2022: WesternU graduates ready to change the world
Western University of Health Sciences celebrated the accomplishments and bright future of nearly 1,000 graduates during five Commencement ceremonies over three days at the Pasadena Civic Auditorium May 18-20, 2022.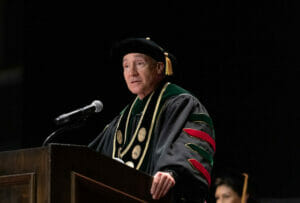 WesternU President Robin Farias-Eisner, MD, PhD, MBA, presided over the University's Commencement ceremonies for the first time and also provided the keynote address for most of them. WesternU conferred diplomas to nearly 1,000 graduates, with one more ceremony for the College of Osteopathic Medicine of the Pacific – Northwest in Lebanon, Oregon set for May 27. When that ceremony concludes, WesternU will have nearly 20,000 alumni.
Faris-Eisner urged the graduates to never compromise the quality of their patient care model for quantity of patient care.
"You already know how precious time can be, and it will only become even more precious in the future. You will always be asked to do more with your time," he said. "Please never succumb to the pressure of providing quantity at the expense of quality of care. Your time is indeed precious, but no more precious than the time you have with each of your patients. You are all amazing and we at WesternU will no doubt continue to be amazed at what you accomplish in the future."
These graduates will enter the frontlines of a battle against diseases of all kinds, not just COVID-19, said WesternU Interim Provost and Chief Academic Officer Paula Crone, DO '92.
"There will be new frontiers of science and knowledge for you to discover and learn from and new challenges to face and obstacles to overcome," Crone said. "In this world filled with division and wounds, you have the opportunity to serve and to heal. Indeed, it is one of your callings as a WesternU graduate as you move forward and take your place in health care. Know that as you do so, we're so very proud of you. We have great confidence in you. And know that you will always have a place in our hearts and a home at WesternU."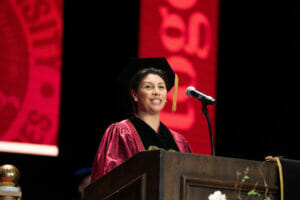 Farias-Eisner bestowed an honorary degree on WesternU Board of Trustees Chair Elizabeth Zamora, MBA, at the College of Osteopathic Medicine of the Pacific (COMP) and College of Podiatric Medicine (CPM) ceremony for her tireless service to the University through the challenging years of the pandemic and transition to new leadership.
Each graduate has overcome a multitude of challenges to persist through this most recent period in history, Zamora said.
"As we emerge from the collective trauma of the past two years and we assess our new world, know that you are essential to the healing and the rebuilding of our community," she said. "You, graduates, are the rays of light shining through as we emerge from this darkness. Commencement is both a celebration of a chapter's end and a new chapter's beginning. As each of you step into your next chapter, I congratulate you for dedicating your life in the service of healing others."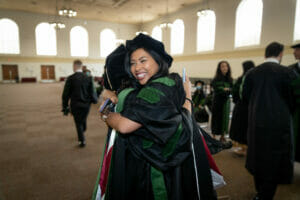 CPM graduate Jazmin Garcia Garivo, DPM '22, said the College prepared her well, with didactic courses providing a good base of knowledge and clinical rotations strengthening her skills.
"The faculty gave us tremendous support," she said. "When we needed them the most, they were there for us. I'm going to miss them, but I'm going to try to keep in contact."
COMP alumnus Andrew Le, DO '17, welcomed the graduates into the WesternU Alumni Association. He told them they have the important responsibility of upholding the valuable traditions of WesternU, an institution committed to excellence, humanistic compassion, and impactful service.
"While most of you understand that the road ahead will be very challenging, I am here to reassure you without a single doubt in my mind you are prepared," Le said. "Your training and education at WesternU has equipped you with the tools and skills to become the best doctor you can be for your patients."
At the ceremony for the Graduate College of Biomedical Sciences (GCBS) and the College of Health Sciences (CHS), Farias-Eisner bestowed an honorary degree on Sylvia Manning, PhD, who served interim president of WesternU from July 1, 2021 to March 1, 2022.
"During her brief tenure, Dr. Manning assiduously partnered with faculty, staff and students to advocate and to advance a number of Western University of Health Sciences' key priorities, including initiatives and implementation of shared governance, accreditation, institutional quality assurance and diversity, equity and inclusion," Farias-Eisner said.
Manning, who did not attend the ceremony, sent a message to the graduating students and the University, which read in part: "Your degrees awarded today signify the immense knowledge and skill you have acquired in the lessening of pain and the improvement of life for living creatures," Manning stated. "The degree I am thrilled to receive signifies nothing of the sort; it is merely recognition for past work that soon became a labor of love. As you go forward to the next phase of your work, may you reap many times over the satisfaction I got at WesternU and may you be sustained every day by the ideals and values your alma mater embraces. I am honored to stand, albeit figuratively, alongside you today. To the entire WesternU family, I wish you joy on the celebratory occasion."
GCBS Acting Dean Bradley Henson, DDS, PhD, gave graduates advice on how to respond when they are feeling down or feeling frustrated at the inevitable challenges they will face.
"I want you to go out and do something for somebody without expecting anything in return, including that person not even knowing that you did it or even who you are," Henson said. "That is how you're going to heal, and that is how you are going to work through the difficulties you are encountering."
College of Health Sciences graduate Jennifer Dong, MSPA '22, said she enjoyed the ceremony and the lessons the speakers imparted. The MSPA program continues through July, so these graduates are not done with their work yet.
"It's definitely worth stopping and just commemorating ourselves," Dong said. "It's a good time to reflect on our accomplishments."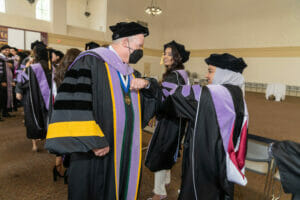 The first Doctor of Pharmacy (PharmD) degree conferred in the College of Pharmacy (COP) was a posthumous degree to Sripriya (Priya) Upadhyayula Patel. She entered the College of Pharmacy in 2019 and would have crossed the Commencement stage next year with the Class of 2023. Upadhyayula Patel's family – including her husband and daughter, her parents and her brother – accepted the degree on her behalf.
Priya was an incredible human being, a high achiever who had a passion and deep love for the pharmacy profession, said COP Dean Sunil Prabhu, PhD, BPharm.
"She was a peer mentor to her fellow classmates, a curious knowledge seeker to her teachers, and an all-around kind person with a huge heart," he said. "An avid lover of animals, always trying to rescue the unfortunate ones, Priya touched every soul she met along her journey. We will never forget her beautiful spirit, ready smile, and genuine bear hugs. We are proud to present her diploma along with her graduate hood to her family."
College of Dental Medicine Dean Steven Friedrichsen, DDS, who will retire later this year, gave his last Dean's Charge, which drew from the College's tagline "CDM Forward Together."
He urged the graduates to build their own brand as a CDM alum. CDM faculty and leaders have been responsible for students' forward momentum, but now that responsibility falls on the graduates.
"It's critically necessary to continue to move our professions forward, to innovate, to improve upon what we have done and to make them better," Friedrichsen said. "When you weigh the tendency to not move versus the challenge of moving forward, hopefully you will choose the challenge that advances you."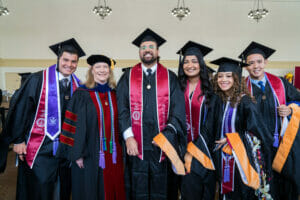 College of Graduate Nursing graduate Sophia Basaldua, MSN '22, said she and her classmates endured the pandemic, took many classes on Zoom, and finally came together in person for graduation.
"Being here today is something really special so I can't wait to see how we go out there and change the world," she said. "I chose WesternU because I really like the community it provided here and I really liked how the professors are really nurturing and really there for you. I felt it was a really good experience. I always knew I liked helping people. I just wanted to make a bigger impact, so here I am."
College of Optometry graduate Nadia Afkhami, OD '22, said she was feeling a mixture of nerves and excitement as she prepared for Commencement to begin.
"We have been waiting our whole lives for this moment. This is it. We made it. A lot of sleepless nights. A lot of tears. A lot of 'maybe we are not going to make it' before we made it," Afkhami said. "A lot of times you think 'I just want to give up.' But you persevere. You keep going. There is light at the end of the tunnel, and we're here."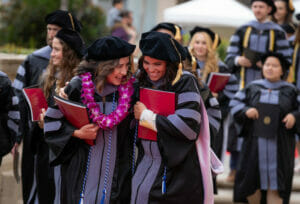 The College did a good job keeping us well protected and it adapted to keep us accountable and still progressing without compromising anything else, Afkhami said. She was excited to walk across the Commencement stage.
"This what we worked our whole lives for," she said. "I want to represent myself, my family and my doctorate in a way that is positive and helps people makes a difference in the community and in people's lives."
The College of Veterinary Medicine (CVM) welcomed keynote speaker Michael Blackwell, DVM, MPH, Director of the Program for Pet Health Equity, College of Social Work, at the University of Tennessee.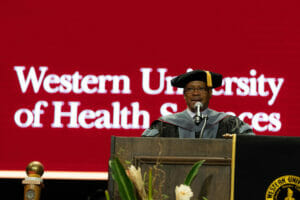 Our society is struggling, Blackwell said, and we need our most intelligent members to be clear about that.
"You will take your place amongst other colleagues who every day go out to benefit our society. But you will also encounter this reality: right now, more than one out of four families struggle to get veterinary care," Blackwell said. "It is understood that is primarily because of limited financial resources, and yet they deserve companionship with a non-human. It's no longer acceptable to say out loud 'If you can't afford a veterinarian, you should not have the right to that relationship.'
"No, they have a right to that relationship. What they need is for us to work hard to make sure they can receive medical care for the humans and the non-humans in that family," Blackwell added. "We need a paradigm shift, and I think it's this generation of veterinarians who will bring that about."