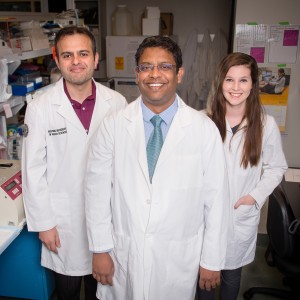 Western University of Health Sciences College of Pharmacy Research Assistant Professor Zubair Karim, PhD, and Associate Professor Fadi Khasawneh, PhD, BPharm, received a National Institutes of Health grant for $421,946 for their project, "Regulation of Platelet SNARE Machinery." The funding is through NIH's National Heart, Lung, and Blood Institute, with Dr. Karim serving as the Principal Investigator and Dr. Khasawneh as the Co-Investigator.
The goal of the project is to characterize the molecular mechanism of platelet membrane fusion in order to ultimately identify new therapeutic targets for managing cardiovascular diseases such as heart attacks and strokes. Specifically, this project focuses on defining the role proteins known as "SNARE" proteins in platelet function, to purpose them as new antithrombotic drug targets.
The platelet's role is to sense vascular damage and to promote clot formation and tissue repair. Secretion from their three granular stores is essential to hemostasis, and the goal is to understand the mechanisms of this secretory process, Karim said. In the resting platelet, hemostatic and tissue repair-inducing components are stored in three types of membrane bound granules. Upon stimulation, these granules are targeted to specific sites on the platelet's plasma membrane where the granule membranes fuse with the plasma membrane, thus releasing the granule contents.
"Our studies are designed to determine what platelet proteins are involved in the steps leading to secretion," Karim said. "We are specifically interested in how the activities of these proteins are controlled by the signaling cascades that are initiated by external events such as vascular damage."
Karim's article on his platelet research was featured on the cover of the journal Blood shortly before he arrived at WesternU in June 2013, with an important follow-up article published in April 2015 while at WesternU, in the journal PLOS One. Receiving this grant is exciting because it helps further his standing as an established investigator, Karim said.
"The money I start generating will help me develop new projects so I can submit for bigger grants and funding to establish a platelet research lab," he said.
Categories: