Claremont Graduate University and Western University of Health Sciences form powerhouse alliance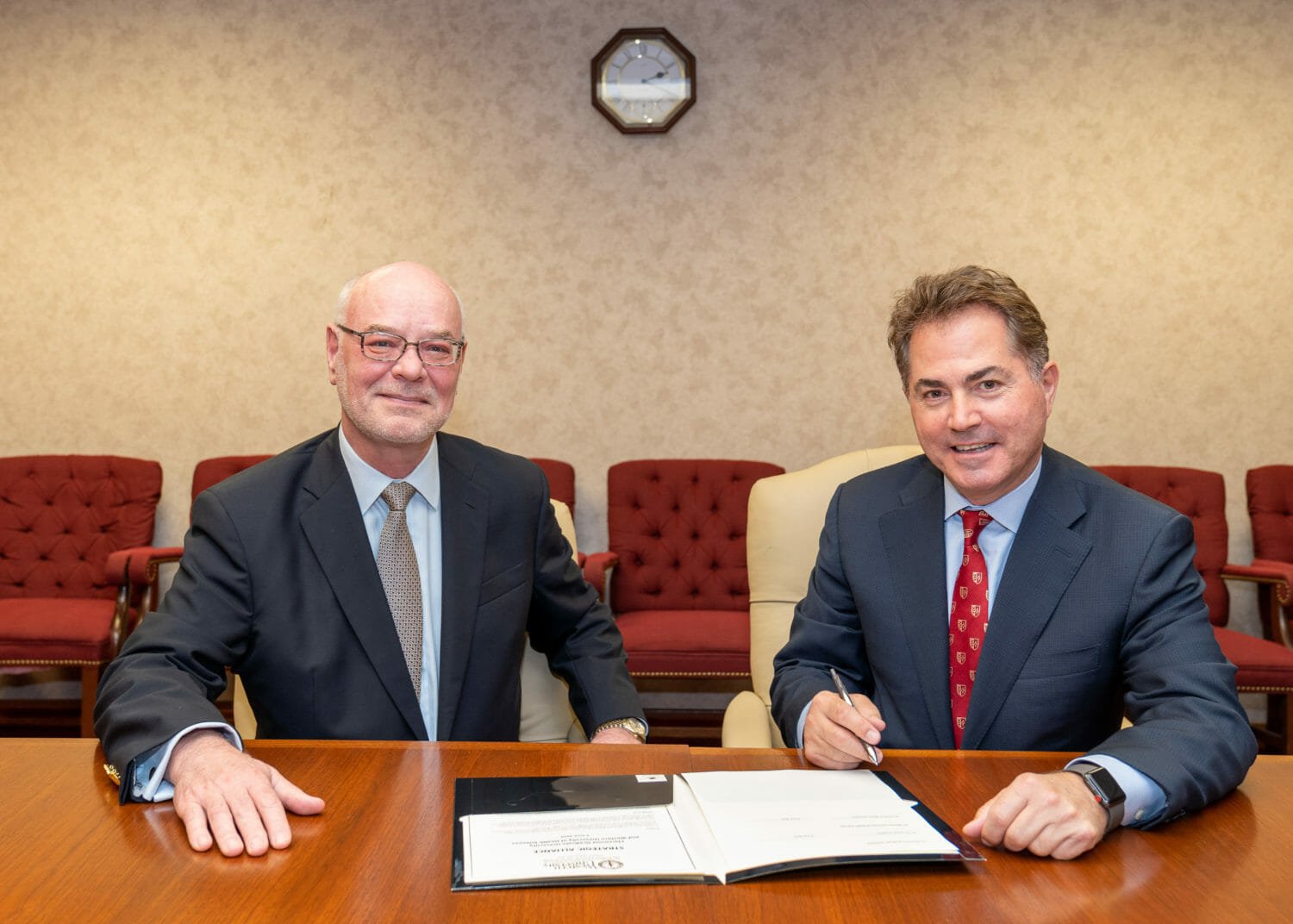 One of America's oldest graduate-only universities is joining forces with a neighboring institution with the broadest array of all-graduate health science programs in the U.S. to better prepare students to enter the rapidly-expanding health sector.
Claremont Graduate University (CGU) and Western University of Health Sciences (WesternU) today announced a strategic alliance to offer students collaborative programming with a focus on health sciences, public health, and health systems management. In addition to the complementary programs, the alliance will facilitate joint research initiatives between faculty and students that will address complex community, national, and global health industry challenges.
The alliance of two respected, unique, private, graduate-only institutions – situated on nearby campuses and with thematically similar missions and cultures – will benefit current and prospective CGU students and faculty, said Len Jessup, PhD, who is the president of Claremont Graduate University.
"CGU and WesternU share many characteristics, including similar missions to provide unsurpassed graduate-level education to our students so that they achieve professional success and fulfillment in their chosen professions," Jessup said. "This alliance is a natural extension of our mission and provides unique opportunities for our students and faculty."
For WesternU – which to date has focused solely on health sciences – the alliance will enable the school to expand its programs to include management and public health, said President Daniel R. Wilson, MD, PhD, Western University of Health Sciences.
"This natural partnership of neighboring institutions aligns one of the nation's oldest all-graduate institutions with the largest aggregation of graduate health science colleges in the country," Wilson said. "This is a new era for both universities, especially our students and faculty, but one that can benefit all the Claremont Colleges as well as the entire region and beyond. We take this robust partnership seriously. This remarkable new trajectory for teaching, research, and service, though as yet uncharted, will have great consequence to our students, our institutions, and the wider world."
The alliance creates a concentrated, graduate-level, educational presence in Los Angeles County, Southern California, and the western United States. Together, CGU and WesternU serve 6,000 students and employ more than 1,000 people in Claremont and Pomona, Calif.
Each university will maintain separate operational, financial and governance structures. Students will have the opportunity to enroll in collaborative programming beginning in the Fall 2019 term.
CGU/WesternU Strategic Alliance FAQ
Q: Why are CGU/WesternU developing this partnership? How does it benefit each institution?
A: We see this as a smart and productive alignment on many levels, most importantly on how this partnership will positively impact opportunities for our students. Healthcare is an essential and important field, and not just from a core medical perspective. Providing students with a well-rounded education that combines health sciences and business, for example, will prepare the next generation of healthcare leaders with the best education and perspective to address the complex issues.
Additionally, the partnership allows for easier faculty collaboration to explore new opportunities for joint research. The complementary nature of our curriculum has the potential to lead to significant new health-related developments and research.
Q: Will any new programs be offered based on the partnership?
A: This partnership is about opening up opportunities based on the current curriculum offered by each institution. No new programs are being planned at this point.
Q: How will students benefit?
A: We're excited to say that it is the students that will receive the best benefit from this partnership – the opportunity to craft their education more specifically based on their desired outcome. For example, the ability to combine a health sciences program with a business component will be attractive to many students.
Q: Don't the two universities offer competing programs?
A: No. We offer complementary programs that when combined, will really speak to the market demand in the healthcare field. It gives each university the opportunity to offer a broader depth of curriculum and programming to our students.
Q: How will student tuition work if someone takes classes at both institutions?
A: Each institution will retain its own financial systems and tuition rates. We will jointly work with students that take coursework at each institution to ensure accounting is clear and understandable.
Q: Is this leading to a bigger partnership and/or merger?
A: We are focusing on the complementary aspects of the curriculum and joint faculty research at this point in time. Both CGU and WesternU are keenly interested in assuring our programming is aligned with industry and market demand. If further collaboration makes sense for our students and each institution, we will certainly explore those options.
Q: Does this mean WesternU is now a part of The Claremont Colleges?
A: No. There is no structural or governance changes to either institution resulting from this partnership.
Q: Is this a financial merger of any kind?
A: No. Each institution will retain its current governance structure and distinct financial operational structure.
Q: How do you expect this to impact each organization in terms of enrollment and operations?
A: We believe this is a wonderful opportunity for students interested in crafting degrees aligned with their professional goals in mind. As such, we hope to see our current students, and certainly new students, take advantage of the opportunity. Each institution will utilize its current operational processes for managing enrollment, tuition, etc., based on course enrollments.