WesternU taps seasoned pro to support governance and the Board of Trustees' governance discussions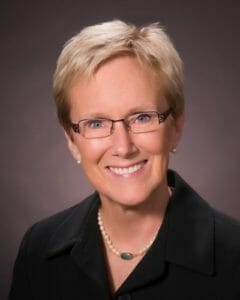 The Western University of Health Sciences Board of Trustees (BoT) has contracted with consulting governance professional, Ellen Chaffee, PhD, to partner with the BoT, President, and Faculty in the practice of sound board and shared governance.
"It is a priority to strengthen governance to sustain the mission of WesternU," said WesternU Board of Trustees Chair Linda Crans. "The Board's expectation is that we – the Faculty, the Administration, and the Board as a whole – work together to develop a shared understanding of our respective roles, responsibilities, and channels of communication so that we can focus on the ultimate success of our students and the sustainability of this institution."
Chaffee has consulted with the BoT for two years focusing on Board development. She has helped the Board adopt a number of best practices to enhance the effectiveness of the Board itself. Her expanded engagement, which began in May, will continue these efforts but also engage the Board, Faculty, and Administration in strengthening good governance across the University.
Chaffee is a senior fellow at the Association of Governing Boards of Colleges and Universities (AGB), the premier organization focused on empowering college, university, and foundation boards to govern with knowledge and confidence. Chaffee's primary role is to provide a broad range of consulting services to boards and presidents of AGB-member institutions, with over 100 engagements to date. She co-directed an AGB project on Board Oversight of Educational Quality funded by the Teagle Foundation. From 2009-2011, she directed Governance for Student Success, an AGB project funded by Lumina Foundation, focusing on strategic finance to help board and executive leaders deal with the impact of the emerging Great Recession.
Chaffee was President of Valley City State University for 15 years, and served nine of those years simultaneously as President of Mayville State University. Her leadership developed an award-winning culture of innovation, change, and accountability. She then spent a year as President in Residence at Harvard University. Previous positions include eight years as academic vice-chancellor for the North Dakota University System and five years as director of organizational studies at the National Center for Higher Education Management Systems (NCHEMS). Trustee of the MeritCare health care system for eight years, Chaffee chaired the board and guided the 50/50 merger that resulted in Sanford Health. She is a former trustee of Des Moines University.
Chaffee earned a master's degree at North Dakota State University and the MA and PhD in higher education administration and policy analysis at Stanford University.
Categories: