WesternU College of Optometry professor 3D printing masks to help local health care providers
July 29, 2020
Read 1 mins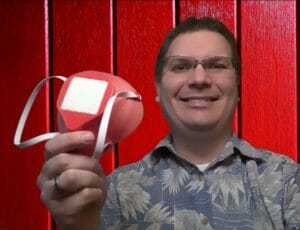 When the COVID-19 pandemic hit earlier this year, hospitals and health care providers faced massive equipment shortages. Western University of Health Sciences College of Optometry Associate Professor D. Joshua Cameron, PhD, FAAO, 3D printed masks from home to help fill this vital need in the community.
Cameron based his mask on designs developed by health care professionals in Billings, Montana, who created the website Make the Masks: https://www.makethemasks.com/. He reached out to this group and they asked him to help coordinate mask making in the Los Angeles area. Cameron made a minor change to the design by printing the masks in TPU (thermoplastic polyurethane).
He sent masks to friends at a Kaiser clinic and San Antonio Regional Hospital. He participated in both the Make the Masks and the USC mask projects.
"In total, I donated over 300 masks to health care workers and front-line personnel here in California and as far away as Michigan," Cameron said. "As a local coordinator for Make the Masks, I also helped to coordinate the delivery of hundreds more made by local makers like myself. I played just a small part of the effort."
Categories: