WesternU College of Health Sciences Associate Professor Von Homer, PhD, AEP, BOCPD
March 28, 2022
Read 2 mins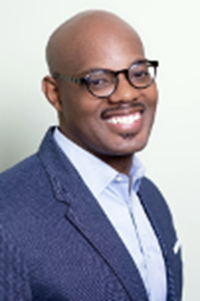 Von Homer, PhD, AEP, BOCPD, joined the College of Health Sciences in fall 2021 as an Associate Professor in the Department of Physical Therapy Education. Dr. Homer is a Neuroergonomist and Pedorthist and an internationally-renowned innovator and entrepreneur.
He joins CHS from Delaware State University, as Assistant Professor of Biomechanics with previous appointments as an Assistant Professor & Director of the Motion Analysis Center (MAC-Lab) at Barry University, School of Podiatric Medicine and as a Clinical Scientist with the Department of Physical Medicine and Rehabilitation at the National Institutes of Health. He is a graduate from Temple University School of Podiatric Medicine, Philadelphia, Pa., where he earned his graduate certificate in Orthotics, Prosthetics and Pedorthics. He has also earned his MS in Biomechanics from Barry University as well as PhD in Computational Neuroscience at the Delaware State University.
He is the co-founder and Chief Scientific Officer of HX Innovations Inc. He invented The Homer Technique ® that uses patent-pending computational neuroscience and biomechanics-based methods to evaluate neuromuscular performance and fatigue within footwear to assess whether its construction is ergonomically fit to safeguard people from injury while helping footwear companies create superior products focused on comfort, fit, and performance biomechanics and neuroscience and developed, a method for predicting Injury Risk.
In addition to his research publications in biomechanics, neuroscience and Medical Device industry, Dr Homer holds two patents – one footwear patent and one digital health technology patent. Learn more about his journey and passion for his work through his Tedtalk, Tedx Wilmington: The Art of Neuroscience: Two Legs to Stand On April 2021.
Categories: