WesternU College of Graduate Nursing alumna uses DNP training to save lives
August 28, 2023
Read 5 mins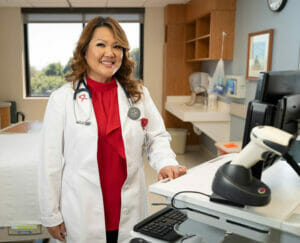 Western University of Health Sciences College of Graduate Nursing (CGN) alumna Christine Dang, DNP' 16, MSN-FNP'1 6, knew she had a monumental task ahead of her: preparing San Antonio Regional Hospital (SARH) in Upland, California for accreditation as a Chest Pain Center with Primary Percutaneous Coronary Intervention (PCI) by the American College of Cardiology (ACC). The Inland Counties Emergency Medical Agency mandated ACC accreditation in order to retain ST Segment Elevation Myocardial Infarction (STEM!) designation. Accreditation from the ACC required rigorous evaluation and implementation of multi-faceted clinical processes and guidelines. Dang drew on the lessons learned in CGN's Doctor of Nursing Practice (DNP) program and accomplished accreditation sooner than expected.
Dang was entirely unaware that her work at SARH would help to save the life of her own brother. Dang has worked for SARH since 2002, when she started a student externship. She worked in several different capacities, including CCU, ICU, Telemetry, Cardiac Cath Lab, and PACU. She also held positions as a cardiovascular nurse navigator and critical care and telemetry clinical educator. In December2 016, she became the cardiac nurse practitioner and Chest Pain Center coordinator and was required to obtain accreditation by December 2017.
Dang started her CPC coordinator position approximately three months after other hospitals started the accreditation process. Accreditation allows up to 12 months of preparation. She was challenged to achieve over 250 mandatory requirements and quality improvement changes by the deadline to avoid losing the hospital's STEMI designation. "I felt WesternU equipped me with the skill set to achieve a successful accreditation. With clinical preparedness at the doctorate level, I was able to propel SARH to be one of the leaders in cardiac care."
San Antonio Regional Hospital has earned ACC Chest Pain Center with Primary PCI accreditation, and has proved its exceptional ability to evaluate, diagnose, and treat patients who may be experiencing a heart attack. The hospital supports the use of PCI as a reperfusion strategy and is committed to providing PCI 24 hours a day, seven days a week.
"This accreditation involves the entire hospital and extends beyond its doors," Dang said. "As an accredited facility, we recognize our responsibility to reach out to the population to prevent heart disease. Heart disease remains the No. 1 cause of death in the United States."
Dang designed and provided education to the community about preventative care and recognizing early signs and symptoms of a heart attack. "We want people to know signs and symptoms can occur hours or weeks before an actual heart attack. We want them to pledge to cell 9-1-1 or get medical attention immediately if it happens to them or anyone they know," she said. She collaborates with multiple disciplines and departments and, also partners with pre-hospital emergency medical service agencies.
"It's about applying best practices that I learned as a DNP student," she said. "You have to be able to collaborate and work with everyone. You have to understand the culture and how to change processes and also know how to identify the early adopters and the change agents."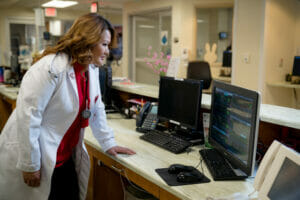 During the accreditation process, Dang brought into practice all of the concepts she learned in the DNP program, including population health, community health and prevention. "I keep on going back to the DNP essentials. I use (them) every day," she said.
Four days before SARH earned its accreditation, Dan g's parents called her because they were worried about her brother. A home blood pressure machine and Apple watch confirmed his rapid heart rate. He initially ignored the signs and wanted to go to work, but Dang insisted he go to SARH. She was confident about SARH's implemented processes and knew he would be in good hands.
He went to SARH's emergency department, an EKG was immediately performed, and troponins
level results were provided soon after. Both performance and result time of tests were substantially superior to the national benchmark. Her brother was diagnosed with a heart attack and was treated and safely discharged after three days.
"He went through all the processes that I had helped design and implement. It was one of the worst and best ways to evaluate the Chest Pain Center program," she said. Fighting back tears, she added, "I am truly thankful that I never had to act as chest pain coordinator, nurse practitioner, or even an employee … they allowed me to just be a sister of a patient."
"I always say that my SARH family took care of my family. I feel as though all my education and experience has led me to this point and it was meant to be for me to save my loved one."
Dang earned her associate's degree in nursing from Mt. San Antonio College and her bachelor's degree in nursing from Cal State Fullerton. She and her husband, Khoa (Joey) Dang, MSN-FNP '12, a current CGN DNP student, both work at SARH and have received advanced degrees from WesternU. Joey is CGN's FNP program director, and Christine is a CGN clinical advisor and faculty for health systems leadership. "To me, San Antonio Regional Hospital and WesternU will always be my family," she said.
Dang entered the MSN-FNP program because she was inspired by her husband and applied for the DNP program because she was motivated by a CGN DNP graduate. Her role at SAKH allows her to utilize her skills and knowledge as an administrator and care provider.
Dang was the first nurse practitioner employed at SARH and is committed to educating colleagues about nurse practitioners' roles and scope of practice, as well as providing high-quality, cost-effective, and patient-centered health care. "I'm still clinically involved with my patients, who I believe are one of the most important stakeholders," she said. "I am grateful to be able to work with the community, provide care at bedside, and be involved in processes to improve patient outcomes."
"After my brother's heart attack, I realized the value of my DNP preparation. It has allowed me to be both directly and indirectly part of patient care to ensure that everyone receives the same quality care my own brother received."
Categories: