Tell us more about your background, highlights, things that you are really proud of, anything that you really want to share.
After working as an optician for nine years in places like LensCrafters, private offices and Southern California College of Optometry, and working with great optometrists, I realized this is the community I wanted to be a part of. I am proud that I challenged myself and applied to WesternU to achieve my goals!
Why did you choose WesternU's College of Optometry? 
I noticed right away that the College was centered around humanism. Without humanism, we cannot be the best health care professionals we can be.
Why did you choose the profession of optometry? 
Optometry has a lot to offer with all of the avenues one could take. It is a rewarding profession while having the ability to maintain a social lifestyle.
What are your passions outside optometry?  Passion projects?
I love to garden and spend time in nature as much as possible. My passion projects include renovating my childhood home. I enjoy a challenging DIY project.
What is your current goal for professional development? What is your next "thing" or next professional goal? What is on your vision board? 
I want to serve my community as a Latina optometrist. I would love to open a private practice or work in a Latin-dense community to spread awareness of eye health in the Latin community.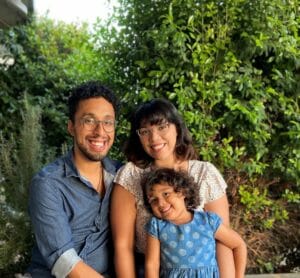 What is the last thing that really moved you – happy, excited, tears of joy, or any emotion? 
Hearing my daughter tell my husband, "Mommy is going to be a doctor and check my eyes." I want to guide and empower her to be a strong, Latin woman in the future. Hearing her say those words let me know that I am on the right path.
Go-to items? What is in the trunk of your car? What is in your everyday bag? 
Hiking boots, a picnic blanket, and sand toys (for my daughter). Hiking, picnics, and beach trips are our go-to activities so we have to stay ready!
What have you done recently to leave your mark on the world around you? An act of kindness? Large or small, please share?
I volunteered for Angeles de la Esperanza—which is a group that sends medical, school, and household supplies to children in Casillas, Guatemala. It is a good feeling to see the footage of these children when they receive these items!
What gets you out of bed in the morning? What is your "why?" 
My family and striving to live a life full of purpose. I am finally enjoying what I am learning and am excited to get up and learn some more.
What is your favorite vacation spot? Or what is your dream vacation spot? Why? 
I love Palm Springs. There is not much to do but lounge at a pool or star gaze. Which is fine with me! My dream vacation would take place on the sands of Bali or the mountains of Peru.
Do you have any tips on how you are adapting to social distancing, online learning, working off campus, caring for patients amid this pandemic? Helpful tips are appreciated by all. 
Change your scenery! Go outside and get some sun (if possible) between Zoom classes. Keep in touch with your fellow students. They know what you are going through and will understand the excitement, hardships, or fear of online learning.