The COVID-19 pandemic has disrupted many facets of everyday life and continues to place strain on the mental health of our communities. The current public health measures requiring social distancing have begun to take a toll on those individuals who were previously at risk for loneliness and social isolation, including residents and in-patients at long-term care facilities, among others.  There is a clear need for a unique approach for social contact that would leverage age old approaches and modern technological approaches to staying connected.  Students have been trying to find ways to continue their outreach to local patients and communities.  They have observed what is happening and they want to give back while maintaining the social distancing guidelines.  As a collaborative, interdisciplinary team of students and faculty, Project Social Connect (PSC) are looking to create beneficial and sustainable relationships with the vulnerable populations in our community. Project Social Connect is made up of: Hannah Cooperman, DO 2023, Levi Hamilton, DO 2023, David Karjala, DO 2023. Eric Nelson, DO 2023, Patrida Rangchaikul, DO 2023, Madeleine Shaver, DO 2023 and sponsoring faculty member Edward Barnes, MD FACP.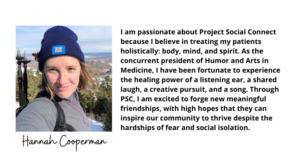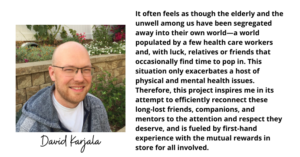 The mission of PSC is to establish meaningful and supportive virtual connections between students and volunteers at WesternU and those in the community suffering from the impacts of social isolation and loneliness.  They aim to ensure community members have a supportive friend to connect with.
The vision of PSC is to establish a community outreach organization at WesternU, which continues to connect students, faculty, and administrators to the community by utilizing all the benefits and possibilities of virtual-based volunteer service.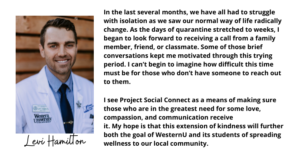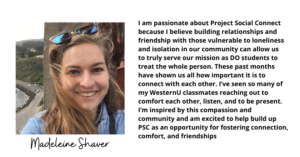 The How: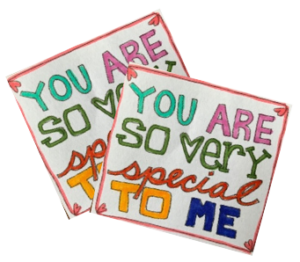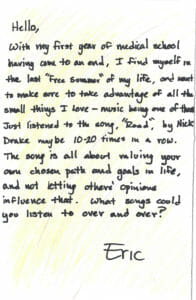 To accomplish this, PSC will connect WesternU student participants and other community volunteers, altogether known as Friends, with community members in need of social support.  By utilizing social connectivity platforms, our Friends will coordinate and lead various virtual and/or phone-based individual and group-based activities.  These activities include the following: phone pals, letter writing campaigns, lectures, trivia nights, art workshops, creative writing activities, book clubs, open-mic nights, and more.  Additionally, they are exploring ways of utilizing this platform as a means of performing virtual health screenings on behalf of WesternU clinicians and community health organizations.
They are serving the following communities: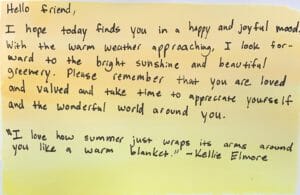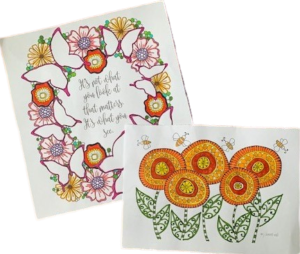 Seniors
Children
Patients in palliative/hospice/ rehabilitation facilities
Immunocompromised individuals and/or other chronic care patients
Homeless individuals via access through local shelters
Immigrant communities through local outreach partners
WesternU students
Healthcare workers and their families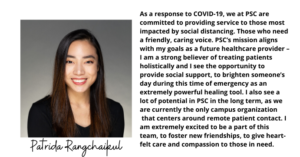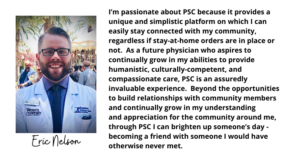 Support groups have been shown to be a powerful healing resource for those experiencing social isolation. PSC is confident that doing things together – especially when they are strengths-based – can build those healing bonds that build personal and community resilience. The benefits of social connectedness should not be overlooked. Making space for time to connect with others who can relate and empathize – especially in programs and services for those seeking to heal and recover – is well worth doing!
For more information please contact Project Social Connect at PSC@Westernu.edu.
Categories: