Get to know the 2023-2024 Residents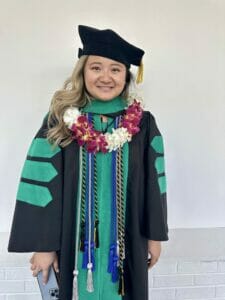 Jacqueline Dang, OD
NOR-VT Resident
What is your fondest memory of WUCO professionally and/or personally? We just got our white coat from the WesternU Book store and that's been pretty surreal.
What do you love about WUCO? I love how different each faculty member is and understanding their perspective from their own clinical experiences.
Why did you choose WUCO? I wanted to move back to Southern California, and Westernu was the only residency program that incorporated vision therapy and neuro-rehabilitation.
Why did you choose the profession of optometry? I've always enjoyed going to the optometrist and liked how personable they were; I felt like in optometry you can really bond with the patient and make connections with them.
What is your favorite thing about being an optometrist? Seeing the progress that patients make from neuro-rehabilitationor vision therapy and how impactful therapy can be for patients.
What are your passions outside optometry? Passion projects? I used to attend a lot of music festivals and still love listening to music whenever I can!
What's the most interesting thing you're working on right now? I am completing the details on my NORA conference poster that will be presented in Portland this upcoming October!
What is your current goal for professional development? What is your next "thing" or next professional goal? I am hoping to establish connections and relationships with local ODs that are also involved in vision therapy and neuro-optometry. I would love to meet doctors who are passionate about the same type of patients.
What is your proudest accomplishment? Taking my parents and my brother out to dinner and being able to pay for the bill and treat them out for the first time!
What advice would you provide to new graduates? Never stop learning!
What was your favorite subject in Optometry school? Strabismus / Vision Therapy
Categories: