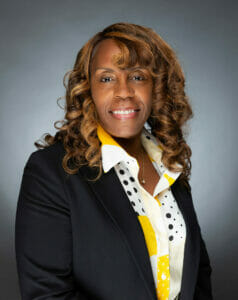 Western University of Health Sciences Founding Chief of Mission Integration Stephanie Bowlin, EdD, PA-C, MSHPE '92, gives from her own heart and understands the critical importance of giving back. Her first gift to WesternU was made in 1999 to establish the annual Bertha Oliver Memorial Scholarship in memory of her mother, who was mindful of helping people and instilled in her the value of giving back through charity and philanthropy.   
In the decades since then, Dr. Bowlin has been a consistent and loyal supporter of WesternU, contributing significantly not only to her mother's scholarship fund, but also to the Academic Excellence Scholarship, the East West Scholarship, and various other scholarship funds. Her giving has also benefited the physical growth of the University through gifts supporting such things as the construction of the Health Education Center and most recently the renovation of the College of Health Sciences building in Lebanon, Oregon.   
It is Dr. Bowlin's goal to continue supporting the WesternU mission, students, and community at large. Her generosity can be quantified by the more than 1,000 individual gifts she has made in more than 20 years of consecutive giving; however, the true impact of her support can be seen not only in the lives and careers of the thousands of students and alumni who have benefited from her generosity but also in the example she sets in helping propel WesternU to new heights.   
Like those who receive her mother's scholarship, Dr. Bowlin displays a kind and humanistic nature and provides service to the community and the University. WesternU is grateful to be a recipient of her philanthropy and charity, as she is the embodiment of the University's mission and spirit. 
Categories: