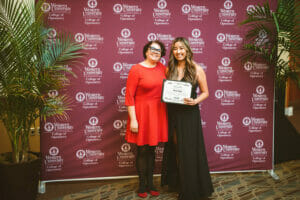 Dr. Renee Doss is a dedicated and passionate optometrist, educator, and mentor with a profound commitment to patient care, education, and professional growth.  She grew up in the San Francisco Bay Area and earned her Doctor of Optometry degree from the Southern California College of Optometry at Marshall B. Ketchum University.  In 2016 she completed a residency in Ocular Disease and Low Vision Rehabilitation at the Southern Arizona Veterans Affairs Healthcare System (SAVAHCS) in Tucson, AZ. Dr. Doss embarked on a journey that would blend her scientific curiosity with a compassionate approach to healthcare.
One of the fondest memories etched on Dr. Doss' career is the warm welcome she received during their interview at WesternU. Her initial impression spoke volumes about the institution's nurturing and collaborative environment, which deeply resonated with her values. Throughout her time at WesternU, she has cherished the spirit of unity and mutual support among professors, staff, and students, fostering an atmosphere where learning and patient care thrive in tandem.
Choosing optometry as a profession was a natural step for Dr. Doss. The intricate complexities of the visual system intrigued her, and the opportunity to make a positive impact on people's lives resonated deeply. Her humanistic approach to education and patient care reflects her belief that optometry is not just about treating conditions, but about providing holistic care to the individual. Dr. Doss' journey has been shaped by embracing change and exploration. Overcoming a fear of public speaking epitomizes her growth and resilience. Her journey from terror to enjoyment underscores their dedication to self-improvement and her commitment to sharing knowledge effectively.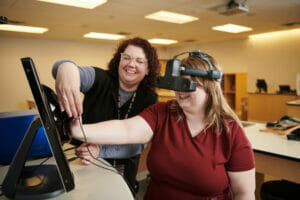 Mentoring emerging optometry professionals has been a cornerstone of her career. The pride she takes in guiding students and residents through personal and professional growth is a testament to her investment in the future of the field. She advises new graduates to embrace the unknown, reminding them that the first job after graduation is just a steppingstone, and the optometric path is rich with diverse opportunities. Alongside mentoring, she is also keen on publishing a teaching case report or case series in a peer-reviewed journal, underscoring their desire to contribute to optometric scholarship.
In her professional endeavors, she is currently focused on delving into the intricacies of OCT (Optical Coherence Tomography) errors. Recognizing the transformative power of OCT in eye care, they are determined to dissect its limitations and challenges to ensure accurate and responsible clinical usage. Post-seg and low vision have left an indelible mark on Dr. Doss. These subjects, intertwined in her mind, encapsulate the intersection of treating ocular diseases and fostering rehabilitation for those with visual impairments. Her passion for low vision care stems from the profound impact it has on enhancing patients' quality of life.
The inspiration to become an optometrist found its roots in Dr. Doss' experience working in a private practice. Witnessing the transformative effect of optometric care on patients cemented her path, and she has since become an unwavering advocate for eye health. Recently, she found herself moved by a quote from a Barbie movie, "We mothers stand still so our daughters can look back to see how far they have come." Recognizing the progress women have made and the sacrifices that paved the way for their achievements. This reflection amplifies their gratitude for the opportunities she can enjoy today.
In her everyday bag, amidst the regular contents, you'll find a small first aid kit, a stethoscope, a Maddox rod with prism, and a 4-mirror gonioscopy lens a reflection of her clinical precision and readiness for any situation. She embodies the essence of a well-rounded optometrist whose dedication to patient care, education, and growth creates a ripple effect that enriches the optometric community and the lives of those they touch. With a genuine love for animals, she one daydreams of a ranch filled with rescue dogs and a life steeped in canine companionship. She currently finds solace in astronomy, yoga, and music, playing both the flute and guitar. Her multifaceted interests mirror her dynamic approach to life.
Categories: