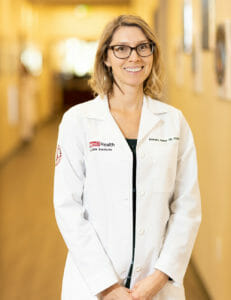 College of Optometry Assistant Professor Kimberly Walker, OD, FCOVD, joined WesternU in 2011.
What is your fondest memory of the College of Optometry professionally and/or personally? What do you love about the College? 
Two powerful memories stick out in my mind. The first was of a little girl I saw in our peds clinic. She had an extremely high astigmatism; I think the highest I had seen at the time. She was legally blind without glasses and really struggling in school. There were some issues with the family and glasses were not easy to obtain. Fortunately, the opticians and I are were able to get her in glasses quickly through a voucher. About a month later I received a handwritten note from her school nurse saying how the little girl was now thriving in her new glasses and she was amazed with her transformation. This was a reminder of why I do what I do, and I still have the note in my office.
The second involves the optometric mission trips with our SVOSH group. I am the faculty advisor for this group and have participated in several international trips with the students. The trips are such a great experience for students both clinically and culturally. I am always so proud of the way they pull together and work so hard to make sure every patient receives the best care possible. The students always rise to the occasion by working hard all day under suboptimal conditions and with limited breaks. They never complain and always have smiles on their faces. I have always felt the service trips build character and I love being part of them!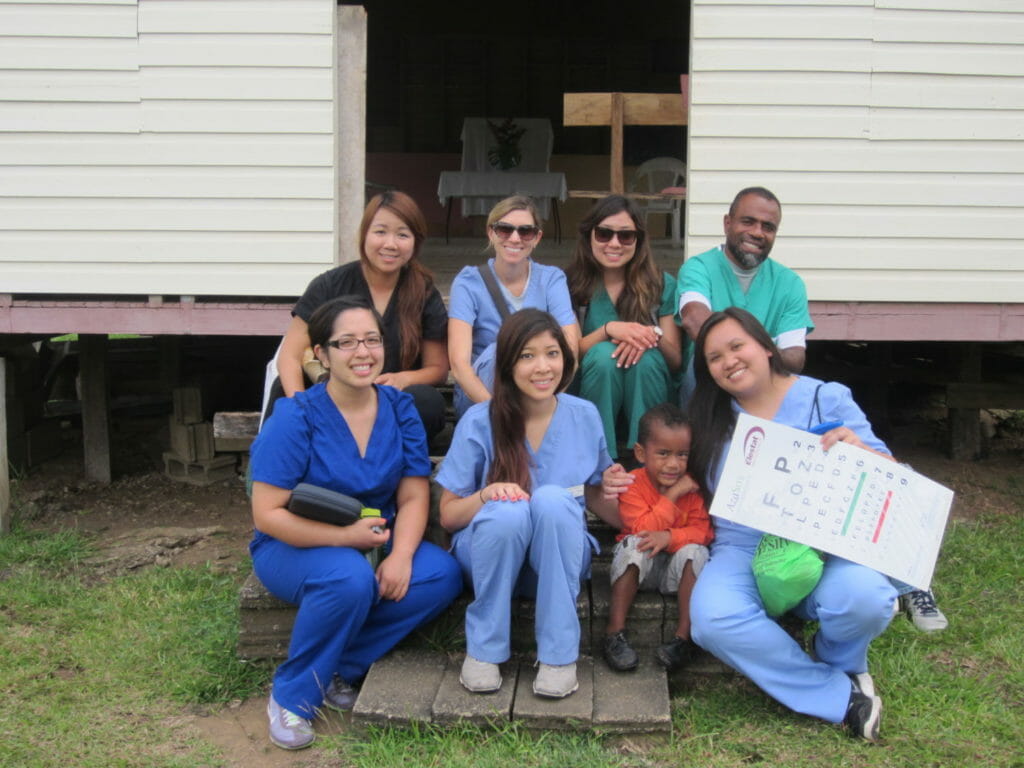 Why did you choose the WesternU College of Optometry?  
I was very excited about the idea of a college of optometry that had a focus on vision therapy and neuro-rehabilitation. These were among my areas of specialization. I had a vision of helping every graduate to be able to identify patients that could benefit from these services and be able to help the patient either by doing the therapy themselves or referring to someone that does, something I felt was lacking within optometry. Judging from the many referrals to our vision therapy from our alumni I would say we are making headway towards that goal.
Why did you choose the profession of optometry?  
I had two people that were very influential in my life that helped me find optometry. I grew up in a small, rural town where there were not many health care professionals, especially not female. I had a very close family friend that decided to optometry school and later became Dr. Melissa Stevens. This opened my eyes to possibility that I could also become a health care professional in the future. Later, during undergraduate school at Lehigh University in Bethlehem Pennsylvania, I met an optometrist, Dr. Tim Fox. He absolutely loved his work and his patients loved him. I wanted that for myself and started working for him as an office assistant and technician. I also loved being in the office and was so inspired by Dr. Fox and Dr. Stevens that I decided to go to their alma mater, Pennsylvania College of Optometry at Salus University.
What are your passions outside optometry?  Passion projects? 
I am passionate about being a good steward of our earth. I have loved nature and the outdoors since childhood. I am concerned with protecting our public lands and toxins in our environment. Trying to protect my family and the earth from toxicity is passion of mine. As a family, we support advocacy groups that work to protect the environment. More locally, in my home city of Orange, California, I am a founding member of Non-toxic Orange, a group that has advocated to ban synthetic herbicides and pesticides in my city and in Orange County. After over a year of advocacy, the city finally agreed to a pilot park. We are still working to get the entire county pesticide and herbicide free.
What is the last thing that really moved you – happy, excited, tears of joy, or any emotion? 
Recently I've been so moved to see all the people come together in New York City and cheer for the health care workers nightly. I used to live in the City and I have a special place in my heart for NYC.
What have you done recently to help the environment? How have you gone green?
I was an early adaptor to being "green" as I grew up in a house at the edge of my grandparent's dairy farm and we were eating organic before it was cool.  I make soaps, lotions and deodorant for my family to help avoid unneeded toxins. I do way too much research on toxicity and how to avoid it in all areas of life, from home furnishings, bedding, baby products, cosmetics, and water and food.  We have pretty much eliminated the use of plastics and use mostly glass and stainless steel. We often take family walks thorough the canyon parks near our home enjoying nature, but also picking up trash left behind by others along the way. My son is really into garbage and garbage trucks right now, so it is an easy sell!
Categories: