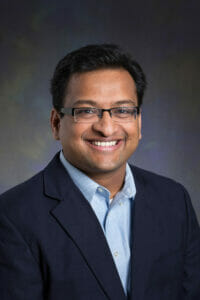 Dr. Harsha Deoghare, the Associate Dean of Research at the College of Health Sciences and Chair of the Department of Physical Therapy, has been elected to the leadership of the American Council of Academic Physical Therapy (ACAPT). This noteworthy accomplishment came after a tightly contested national election, highlighting Dr. Deoghare's substantial contributions to physical therapy education and bringing national recognition to WesternU.
As an institutional group of the American Physical Therapy Association, ACAPT is dedicated to promoting excellence in physical therapy education across all U.S.-accredited programs. Notably, ACAPT operates separately from the Commission on Accreditation in Physical Therapy Education (CAPTE), the only PT program accrediting agency recognized by the U.S. Department of Education. CAPTE lays down the baseline standards for academic program accreditation. However, ACAPT exists on the other end of this spectrum, concentrating its efforts on encouraging development that transcends these minimum standards. ACAPT's ultimate goal is to incessantly push the boundaries in the field of physical therapy education, in a tireless pursuit of excellence.
Previously, Dr. Deoghare lent his expertise to the ACAPT Task Force to Explore Data & Technology to Evaluate Program Outcomes. The task force's contribution was instrumental in the formation of the ACAPT Center for Excellence in Academic Physical Therapy in 2022, a significant stride in improving the quality of academic physical therapy programs.
Dr. Deoghare's election as Chair follows a substantial restructuring within ACAPT, aimed at enhancing synergy among its various institutions. This new structure seeks a more integrated approach to achieve ACAPT's mission of academic excellence.
In his new role, Dr. Deoghare will steer the Institute of Academic Advancement, collaborating closely with the Center for Excellence in Academic Physical Therapy. As ACAPT embarks on this transformative journey, Dr. Deoghare's leadership will be instrumental in maximizing the potential of the restructure, propelling the field of academic physical therapy towards a future of unparalleled excellence.