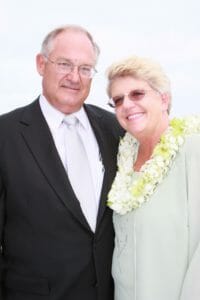 Bob Williams played a vital role in the establishment of Western University of Health Sciences' College of Optometry. He served with Dr. Wid Bleything and a number of other friends and colleagues on the first focus group convened by WesternU in October 2006 during the early planning phases of the College and was instrumental in the development of the College's first Mission Statement. At the time, he was serving as the Executive Director of both the Optometric Extension Program Foundation and the Neuro-Optometric Rehabilitation Association. The proposed draft Mission Statement focused on visual training and rehabilitation.
Williams had visited the WesternU campus years earlier, around 1980, because of a connection between the Southern California College of Optometry, where he was the Director of Alumni Relations, and the College of Osteopathic Medicine of the Pacific, WesternU's founding college.
He joined the College of Optometry as a consultant and part-time employee to assist the College's graduates with practice placements and opportunities, including advice on practice evaluation for purchase and partnerships. Williams and his family established a memorial scholarship honoring his wife, Leslie, who passed away in 2015. 
Have you ever been the recipient of a donation? Share the details of that donation. 
When I was a freshman at California State College at Hayward, the Plumbers Union offered scholarships to the children of their members. I applied. I have to admit there wasn't a great deal of competition, but I was pleasantly surprised to receive notice that I was the recipient of a $250 scholarship. I think my father was more impressed and pleased that was! Never saw such a proud smile on his face! I was the first in the family to go to post-secondary education. Because of the economics of public education in the 1960s, that scholarship ended up paying for at least half of my bachelor's degree! It made a huge difference in my academic career! I was an average student in those days. GPA in high school and college virtually the same. A friend of mine later suggested that my modus operandi was to do just enough to get by. And he was right. A 2.95 GPA was good enough for my purposes. But not having to work my first year at Cal State made it possible to get off to a solid start. I was a 4.5 diopter myope at the time and reading was a challenge. Wish I had stumbled on an OEP Associate in Fresno in 1956 when I was referred for glasses for the first time because I was squinting to see the blackboard. Went from 20/30 in '56 to 20/400 in 1960. About a quarter diopter at a time. Cost my parent a fortune in lenses and never solved the problem. That scholarship and my vision issues lead me to optometry by a circuitous route.  By 1975, at SCCO, I figured out why it took me a year to read Michener's Centennial, about three pages a night to get through 1,000 pages. After my first pair of near point lenses prescribed by Dr. Greg Gilman in 1982, I started reading voraciously and have read everything Michener wrote, that wonderful collection of 1,000-page tomes! And at least three books a month now!
Is your giving inspired by someone or something in particular? Please share about your unique inspiration. 
My wife, Leslie, had always been part of my optometric career, as I had been in her career in education.  There was a natural link between our two professions and the establishment of the College of Optometry with a focus on vision and learning was one more instance where we could serve the populations that we very important to both of us. When Leslie passed in 2015, a memorial at the College of Optometry was our first and only thought.  A scholarship supporting a graduate who excelled in vision and learning was a natural and easy fit for me and the family. 
What message would you use to inspire others to give?  How has giving enhanced your own life? Any recipients that really moved you?
Leslie was dedicated to equal educational opportunities for all.  Learning happens when kids can see and process visual information. The College of Optometry has a commitment to behavioral/functional optometry including vision and learning. It was an easy decision to make because our goals are similar. Her contributions to humanity through education was remarkable.  I still get messages about her support to elementary students who received doctorates and credit her with making the difference in their lives. It is fitting that her name and contributions be connected to the College in perpetuity.
What would you like the recipients of your gift to know?
Leslie B. Williams was committed to making this a better world, one person at a time, one day at a time. I want the recipients to know a little about her and our family and know that they are now a member of the Williams family. I will help and consult with all the Leslie Scholarship recipients as long as I can contribute to their success. If we all paid it forward, the world would be a better place. That is what she visualized throughout her career and her life.
I am writing book about her. There may only be one copy printed but I will donate it to the University Library for recipients in 100 years to read and appreciate who she was and how she contributed to all of us.
Categories: