Dr. Faisal Qazi is social activist, advocate and an educator who spearheads MiNDS, a southern CA community development non-profit and practices Neurology.
Dr. Qazi is the founder of MiNDS (Medical Network Devoted to Service) established in 2011, a community development and charitable healthcare foundation. He is also a Commissioner for the City of Fullerton serving on its Citizen's Community Development Committee as of 2014. He is the recipient of 40 under 40 Outstanding Service award by New Leaders Council in 2012 and Excellence in Leadership Award by CA State Assembly Representative in 2013.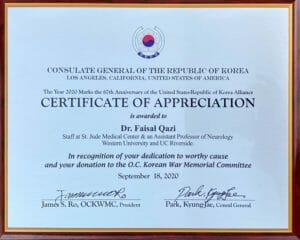 The South Korean Consul General honored Dr. Qazi for supporting the historic Korean War Memorial in Fullerton, CA. The Consul were very proud of Dr. Qazi's Pakistani heritage saying that Pakistan supported the South Koreans during the 1950 war by providing relief aid.
The Orange County Korean War Memorial Committee has been working for years to create a local memorial to the war's veterans, but previously lacked the funding and support for it to become a reality. The Fullerton City Council on Tuesday, July 21, 2020 unanimously voted for the monument's construction.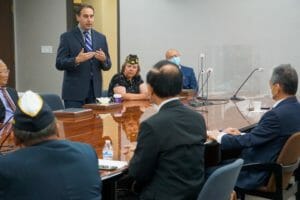 This will be the country's first memorial to include the names of all 36,492 American soldiers who died in the Korean War. From the state of California, there were 2,611 casualties reported.