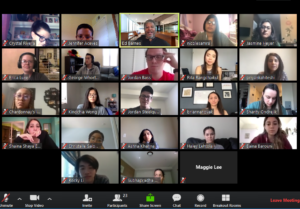 Live Virtual Engagement:
With medical education going through a permanent state of change, the College of Osteopathic Medicine of the Pacific has pulled out all the stops to make sure our students thrive in our current learning environment.
Zoom a leader in modern enterprise video communications, with its cloud platform for video and audio conferencing, chat, and webinars across mobile, desktop, and room systems has been heavily utilized throughout COMP's curriculum years 1-4.
Here are some of the frequently used Zoom features: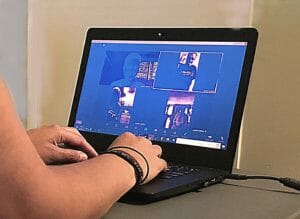 Virtual Breakout rooms – for small group discussion, Patient interview skills, Virtual Anatomy Lab, and OMM skills groups
Live Polling – polling makes live lectures more interactive by deploying questions during the learning activity  and then sharing the results of the polls with the class to assess their knowledge and to drive further discussion
Annotation – Zoom allows for drawing, placing icons, or adding typing on the screen as you deliver a live Zoom lecture. This function has been used to describe complex processes and the digital White board has been used to describe process better
Chat – The Chat function allows students to interact with professors and each other. It has worked best when someone other than the lecturer is following the discussion and fielding questions or at least alerting the instructor to the chat. This probably the most utilized feature.
Live Zoom Grand Rounds – Students present and share Clinical Cases and receive guidance from the faculty facilitators and their classmates, similar to what they would experience on Clinical Rotations.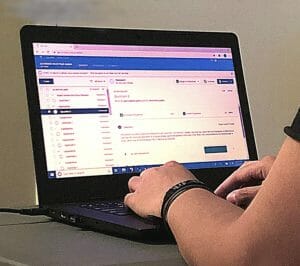 Top Hat is an education software built for professors and teaching faculty to drive live engagement.  COMP has used this tool by uploading PowerPoint slides to TopHat where polling questions are embedded throughout the learning event.  This allows for more powerful polling due to the number of creative ways one can format questions.  There are options to hotspot images, fill in the blank, and matching are just of few options they offer. Screen sharing is available to allow students to follow along remotely and answer the embedded questions on their own computer or mobile device.  The results are then shared with the students and help drive discussion.
Asynchronous Online Modular Engagement 
Asynchronous classes let students complete their work on their own time. Students are given a time-frame – it's usually a one-week window – during which they need to connect to their class at least once or twice.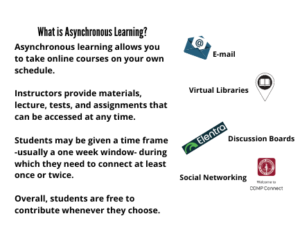 Virtual clinical experiences have been created to align alongside in-person clinical experiences as they become available. For each core rotation our students will augments their clinical knowledge and continue to be a part of the clinical team at several of our core sites,
COMP 3rd Year Sample Rotation Schedule

COMP 4th Year Sample Rotation Schedule

Population Health – This online course serves as an introduction to the breadth and diversity of population health, an emerging discipline that focuses on the measurement and optimization of health outcomes of groups of individuals, including distribution of such outcomes within the groups. Population health recognizes that environmental, social, and behavioral factors, as well as the health care delivery itself, are among the significant determinants of health outcomes. The course is designed to prepare our fourth-year osteopathic medical student for their emergence into postgraduate medical education. The course explores how the social environment and the contexts in which people live shape individual and community health. Students will examine drivers of health behaviors at multiple levels of analysis – from decisions occurring at the individual level to broader environmental and structural factors that fundamentally shape health outcomes and "why people do what they do."
Tools being used:
Articulate 360 – an online module builder software package that our faculty use to build online learning activities.
Articulate modules are being use for both pre-clinical and clinical rotations experience to provide asynchronous learning opportunities that will allow students to navigate and learn at their own pace.
Samples:
Interactive PDF – we have also built some Interactive PDF learning primers with embedded link outs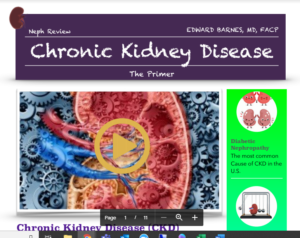 to videos and quizzes for example out CKD Interactive Primer.
Online Vendor Solutions
GibLib – Online software being utilized to replace  surgical experiences it also has several medical based discussions that are being used for other rotations. This video-based learning environment with real surgical procedures and voice over narration, provides the students an experience similar to being in an operating room
iHuman – An avatar-based patient simulator that being used for our virtual patient encounters. The system utilizes the science of Artificial Intelligence and Adaptive Learning.  We plan to use this resource for our Clinical Internal Medicine rotation curriculum, for Family Medicine rotations and Standardized Patient Encounters.
Online Med-Ed – Online learning platform that hosts a series of videos for almost every clinical scenario with embedded worksheets and quizzes. These videos are assigned by our Clinical Skills rotation and used as preparation for our students Board Prep.
Aquifer CLIPP cases – Online Pediatric case modules that challenge the student's critical thinking skills.
Many valuable opportunities for re-imagining medical education have been created. Virtual curriculum means more people can participate from afar. Not only are we able to reach a greater volume of trainees, but we can also arrange for speakers and educators to lead the learning activities from any distance.  The current educational landscape offers opportunities for students to grow in profound ways, we truly believe these experiences will make our future physician workforce better.