Western University of Health Sciences second-year College of Optometry (CO) student Jacqueline Gomez received the Advocate of 2020 Award from White Coats for Black Lives (WC4BL) WesternU Pomona Chapter.
WC4BL recognized Gomez, who's a CO liaison for WC4BL, for her consistent hard work in the name of racial justice, dedication to supporting the movement for Black lives, commitment demonstrated towards change, and willingness to pursue a better future.
Former WC4BL president and second-year College of Osteopathic Medicine of the Pacific student Azaria Lewis said Jacqueline, "Went above and beyond that role by working with CO on adding diversity, equity and inclusion aspects to the CO curriculum."
Gomez said she became active because it's not the time to be complacent and hopes things will get better, especially as a future health care provider.
"As a future health care provider, it is my duty to speak against any issue, problem, that harms the well-being of my patients and puts them at increased risk for disease. That includes societal barriers, structures, and institutions," she said. "If I don't advocate and ask for systemic change, who suffers? If I don't use the privilege and power that I have as a student to care or push for us to do better, our Black and Brown patients will continue to get sick, lose their vision, and die at disproportionate rates."
She added, "Our communities hurt when we don't address racism, lack of diversity, cultural humility, health disparities, and implicit bias in health care. Being complacent is actively contributing to the higher rates of illness and deaths."
Gomez was active in getting her College to expand its coverage of topics related to diversity, equity, and inclusion in its curriculum by working with the College's Director of Student Affairs, Andrea Nuño, MS (CHS '17) to establish a CO-BLM task force consisting of faculty members, administrators, and students.  The task force has grown to include 27 active members.  Gomez also worked with her fellow students to add a BIPOC (black, indigenous, and people of color) inspirational leader to the College's "house" system: Bess Coleman, OD. –the first documented African American woman to practice optometry in the United States.
Gomez's activism was especially important during this past fall's orientation welcome week when she helped to support the matriculating students in the Class of 2024 by participating in an educational workshop covering racism in health care.  Gomez introduced the incoming students to the task force, WC4BL, and WesternU students for Social Justice.  This support was vitally important, because the hybrid nature of education in the pandemic made it difficult for new students to find support and to make connections.
Gomez and the members of the College task force have worked together to start a speaker series highlighting presentations by experts to further expand our conversations related to diversity, equity, inclusion, and anti-racism.  Ben Danielson, MD, kicked off the series and emphasized the importance of having these conversations and Ruth Shoge, OD, MPH held cultural humility workshops with each class.
Gomez is currently working with the Humanism SPG task force and the Harriet K. and Philip Pumerantz Library on a university-wide anti-racism course and is teaching an optometric Spanish class to classmates to reduce the communication barrier among students, doctors and patients.
"We are all very proud of Jacqueline and her leadership," said CO Dean Elizabeth Hoppe, OD, MPH, DrPH, "She is taking her beliefs and putting them into action on behalf of our College, her classmates, and her future patients.  She is making a big difference within our communities.  I am certain that the leadership skills that Jackie is perfecting now will continue to grow and develop and that she will be a driving force in the optometric profession."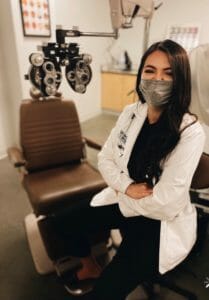 Gomez is a first-generation Mexican American born in Seattle, Washington. She was raised going back and forth between Seattle and her parent's hometown of Union de Tula, Jalisco, Mexico.
She wants to become an optometrist because the Latinx community is one of the most impacted groups from diabetes. She has witnessed close relatives and members of her community suffer from complications due to this disease, including vision loss.
"I realized that the higher rates of diabetes could not solely be attributed to a hereditary condition, but rather to a lack of culturally competent health care and education," she said. Their vision loss could have been prevented. I became impassioned to learn how to prevent others from experiencing the detrimental effects of vision loss and made the choice to become an optometrist."
These experiences have served as the inspiration and motivation for Gomez to actively pursue a career that would allow her to serve her community.
When choosing WesternU College of Optometry, Gomez said it was important for her to choose a school where she could be mentally and emotionally happy, while also considering the location, diversity, sense of community, patient population, student resources, and proximity to family. Anything that would help make her feel at home.
"I believe my actions are a form of preventative medicine. To prevent disease, to prevent suffering, we must learn and address not only the pathophysiological but the racism and the systems that preserve it," she said. "I hope we create an inviting environment where underrepresented students feel supported. I hope we can proudly state that we graduate culturally competent doctors who are equipped with the tools to treat every patient with the best and most humanistic care possible."