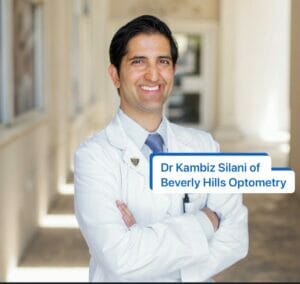 Kambiz Silani, OD '13, graduated from Western University of Health Sciences' College of Optometry in 2013 with an emphasis in ocular disease, optometric rehabilitation and neuro-optometry. His undergraduate studies were completed at the University Of California, Los Angeles (UCLA) with a background in psychology, sociology, and pre-optometry.
His collegiate career was highlighted with various awards and recognitions, including the title "clinician of the year for outstanding patient care," the WesternU Class Scholarship, honored on the Dean's List for academic excellence and inducted to the International Honor's Society, Beta Sigma Kappa.
At WesternU, Dr. Silani was appointed the leadership position of Alumni Representative for three consecutive years and, in 2011, became a Student Fellow of the nationally-recognized American Academy of Optometry. While completing his studies, he worked on research with the world-renowned vision scientist, Christopher Chase, PhD, to delve deeper into the function of accommodation and related visual structures.
During his externship rotations, Dr. Silani trained under Harvard graduate Dr. Angela Nahl, providing medical eye care and assisting in surgical procedures at La Jolla LASIK Institute. He further developed his skills with stroke patients and traumatic brain injury patients with Dr. Carl Garbus, the President of the Neuro-Optometric Rehabilitation Association in Valencia, as well as Cedars-Sinai Medical Center.
Lastly, Dr. Silani worked with the outstanding Retina-Vitreous Associates Medical Group – a team that specializes in treatment of the retina, vitreous and macula and are deeply involved with cutting-edge technology, such as Implantable Miniature Telescopes to improve sight in Age-related Macular Degeneration patients.
Dr. Silani is the chief clinical director of Beverly Hills Optometry. He is a member of the American Optometry Association, California Optometric Association, the American Academy of Optometry, and the Beverly Hills Chamber of Commerce.
Dr. Silani was recently included in the Top 50 Doctor Influencers in 2022 by Amra and Elma. He was also ranked 16th in the nation by Newsweek as America's Best Eye Doctors of 2022.
What inspired you to become an optometrist?
My family has been in the eye care field for over 60 years. My father's hard work and dedication to the field inspired me to continue the legacy as a second-generation eye care specialist. Having a professional purpose that includes enhancing the vision and eye health of patients is extremely gratifying.
What advice would you offer new optometry students?
The journey ahead may be bumpy at times but enjoy every moment of it. Some of my favorite memories were with my fellow optometry students: jet-setting to conferences, laughing during study group sessions, celebrating our accomplishments, competing in athletic events, and much, much more.
What advice would you provide graduate optometry students?
Explore practicing in various settings: private practice, hospital setting, Refractive Surgery, specialty clinics to determine which is the ideal fit for the long-term.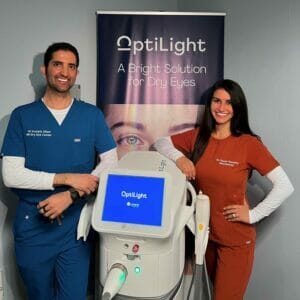 What made you want to open your practice?
Opening a medical optometric practice sparked my entrepreneurial spirit. I was able to design a practice based off my goals and vision: to offer a heightened patient care experience with state-of-the-art diagnostic and therapeutic technology as well as surrounding myself with a talented, compassionate, and family-oriented team.
What is your professional interest?
Educating and empowering our patients about eye care through social media and other media platforms
What was the driving force for you to create a scholarship and donate to the College of Optometry?
The WesternU family supported me during my academic career and I had the honor of being awarded a number of scholarships and accolades. So as an alumni in my first year, I was proud to co-found the Silani-Gandhi Scholarship as a way to pay my respects to the University that gave me so much. In fact, we are quickly approaching the 10-year mark!
What are your specialties in practice?
Our primary focus is properly identifying, diagnosing and treating Ocular Surface Disease (OSD) including Dry Eye Disease (DED), Blepharitis, MGD, Ocular Rosacea, Styes and more.
What CE courses do you offer?
As many of my colleagues know, dry eye is a special topic that excites me. I feel fortunate to be a consultant, speaker, writer and influencer on the topic. The last decade has brought us OptiLight IPL, Lipiflow, TearCare, BlephEx, and iLux; I can't wait to see what the next decade has in store.
Please let us know your favorite part of being a business owner/optometrist.
The merger of science, medicine and engineering is astounding, especially at the remarkable pace of innovation. As a constantly evolving profession, medical optometry allows the freedom for practitioners to grow and thrive whether it's in primary eye care or specialty eyecare such as vision therapy, myopia control, dry eye, lasik co-management, custom contact lenses, and more. As a private practice owner, I've had the pleasure of dabbling in nearly all the above.
Categories: