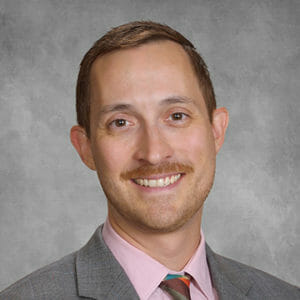 College of Optometry alumnus Benjamin Tautges, OD '17, works with Acuity Eye Group in Palm Springs and Yucca Valley.
What is your fondest memory of the College of Optometry professionally and/or personally?
I really enjoyed the camaraderie with my classmates and the new friends and colleagues made. I appreciated that the administration and professors welcomed constructive input from the class via student government.
What are your passions outside optometry? 
Urban history, natural lands and conservation, travel, contemporary art.
Go-to items? What is in the trunk of your car? What is in your everyday bag?
A surprising number of canvas shopping bags, a big College of Optometry water flask, my collapsible bike is often in my trunk. Always have some loratadine in my work bag in case a patient shows up covered in cat hair and my allergies react accordingly.
What have you done recently to leave your mark on the world around you? An act of kindness? Large or small, please share?
Since COVID-19, we've been asked to step up to fill other roles since most techs and staff have been furloughed.  I think that taking the energy to help these urgent and emergent patients is a small kindness I can show right now.
What have you done recently to help the environment? How have you gone green?
It's a small step, but air-drying clothes. Being in the desiccated desert it almost seems criminal to use the dryer!
What gets you out of bed in the morning? What is your "why?"
Right now during these interesting times I keep reminding myself "Keep on swimming!"
Do you have any tips on how you are adapting to social distancing, online learning, working off campus, caring for patients amid this pandemic?
It's very helpful that a lot of CE has moved online recently. Otherwise, lots of PPE precautions when seeing patients and taking care of myself physically and mentally when not at work.
Categories: