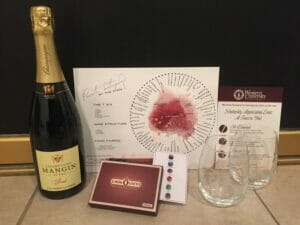 Western University of Health Sciences University Advancement held a Scholarship Appreciation Event on April 17, 2021 online. About 50 donors were joined on Zoom by WesternU deans, senior leadership, and members of the Board of Trustees. Each donor received in advance one bottle of premium, small-production and sustainably-farmed champagne, a box of six artisan truffles, and two WesternU stemless wine glasses.
The champagne and chocolate tasting was led by Casleah Herwaldt, a certified sommelier through the Court of Master Sommeliers. She also recently started her own wine label called Casleah Wine, which includes a Pinot Noir and a Rosé from Sonoma Coast. The event also featured breakout rooms facilitated by development officers, and a pre-recorded thank you video featuring several student recipients of scholarships established by the participating donors.
WesternU Senior Vice President for University Advancement Diane M. Abraham, PhD, MBA, CFRE, explained this event is the first of its kind at WesternU, while also tied to an event that dates back 30 years. In 1991, a group of committed volunteers and donors created the Asian-American Scholarship Dinner to celebrate the local Asian communities and raise scholarship money for students of WesternU's founding college, the College of Osteopathic Medicine of the Pacific. To better reflect the growing diversity of the event's scholarship recipients, the name was changed to the East West Scholarship Dinner in 2007. The funds raised from those dinners over the past three decades now support nearly 40 annual student scholarships totaling more than $50,000 each year.
Last spring, Advancement planned to change the East West Dinner to a luncheon, with a new focus on thanking donors. But the COVID-19 pandemic forced WesternU to postpone and then ultimately cancel that event. With the pandemic still affecting in-person events, Advancement decided to hold this event.
"As the calendar turned to 2021, the ability to host an in-person event was still not possible, but we could not let another year go by without doing something special to thank our most generous scholarship donors like you," Abraham said. "I am proud of my staff for coming up with this creative idea to bring us all together as a small way for us to say thank you… and have a little fun, too."
"As scholarship donors, I know you share my pride in our students, and I truly appreciate how you demonstrate your pride through generous support of our wonderful students," said WesternU President Daniel R. Wilson, MD, PhD. "Especially now, our students can use all the support they can get, as many have lost the regular financial support of their families. We were fortunate to be able to disburse more than $1 million in pandemic relief funds directly to our students, while additional federal aid was used to support our students with PPE, testing, and adapting our campus for students to safely return as needed."
"Due to your collective generosity, this year WesternU is anticipating awarding nearly 400 donor-funded scholarships totaling more than $2.5 million to these and other students. And within the next month or two, my staff will be sending you a personal thank you note from this year's recipient of your scholarship," Abraham said. "For now, though, I would like to simply raise my glass and toast all of you. Please know you have my deepest gratitude for your commitment to WesternU and our students. With your support we are securing a brighter future for our communities with these students leading the way."
Categories: