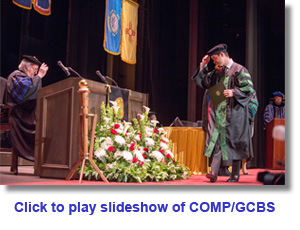 Western University of Health Sciences' 34th Annual Commencement Exercises were marked by a few historic firsts — and one profound last.
The May 20-22, 2015 ceremonies at the Pasadena Civic Center marked the first time the university surpassed more than 1,000 graduates at Commencement, and the first time a Graduate College of Biomedical Sciences (GCBS) alumnus graduated from the College of Osteopathic Medicine of the Pacific (COMP).
The university's fifth and final ceremony of its three-day Commencement – for COMP and GCBS – also included the first appearance on a WesternU graduation stage by Harriet Pumerantz, wife of Founding President Philip Pumerantz, PhD, and herself a major player in the establishment of COMP and many of the University's traditions and events.
Mrs. Pumerantz's "first" was the direct result of the historic "last" at the 2015 ceremonies: President Pumerantz's final Commencement as president. He will retire on September 8 of this year, exactly 34 years to the day COMP opened for business.
"This is very special to me personally," Dr. Pumerantz said as the COMP/GCBS ceremony got underway. He was surrounded by family – not only Harriet and the students, faculty and staff of WesternU, but also his children Andrew (on stage as COMP faculty), Richard and Beth, who sat in the front row of the Civic Center audience with the Pumerantz grandchildren and other family members.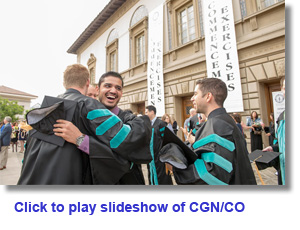 "We don't tolerate that diversity, we celebrate that diversity," he said. Applauding WesternU's, and especially Dr. Pumerantz's, commitment to humanism and improving the human condition, Newsom noted, "As Dr. Martin Luther King said, 'We are caught in an inescapable network of mutuality.' We are all better off when we are ALL better off."
But what does that mean in a world that changes so rapidly? How do we get to "better off" for everyone? Technology is part of the key, Newsom opined, but so is respect for collaboration, appreciation for the importance of communication, and acknowledgment that individuals are empowered to make change.
One doesn't have to BE something to DO something, the lieutenant governor concluded.
"Don't let life de-genius you. Step up, step in, and recognize your voice. Success is synergistic with environment. Create the conditions where success becomes irresistible.
"I want you to appreciate your chance to take advantage of this opportunity. The future's not in front of you. It's inside of you."
Michael Demian, father of College of Podiatric Medicine graduate Jeffrey Demian, DPM '15, said his son first became interested in medicine as a 16-year-old while volunteering at a local hospital. His son will begin his residency at Chino Valley Medical Center in June.
"I'm so excited. It's the best moment in my life," said Michael Demian, adding that his son will be caring and loving to his patients. "He doesn't care about money. He cares about being merciful and helpful to people."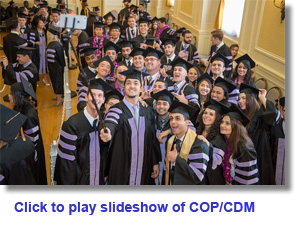 That afternoon, graduates from the colleges of Dental Medicine and Pharmacy were challenged by a former WesternU faculty member to make their mark. "You have received an excellent education," said Patricia Chase, PhD, Gates Wigner Dean for the School of Pharmacy at West Virginia University. "Now I must challenge you that your job is to make a difference in the entire world."
She had two suggestions to help graduates achieve this lofty goal: Be an explorer, and think "off the map" by choosing the road less traveled, engaging with people along the way, and collecting experiences rather than souvenirs.
At the May 21 ceremonies for the colleges of Graduate Nursing and Optometry, keynote speaker Devorah Lieberman, PhD, president of the University of La Verne, praised the graduates for their "appetite for healing and wellness," and noted they have the unique privilege of being in positions to help people feel better.
"Each of you sitting here today is a master in the art of caring," Lieberman said. "What a role model you will be for your families and for those you work with in health care settings."
The graduates themselves were anxious to put what they'd learned into practice. College of Graduate Nursing graduate Serena Caldwell, MSN-FNP '15, said she will practice primary care in Oregon.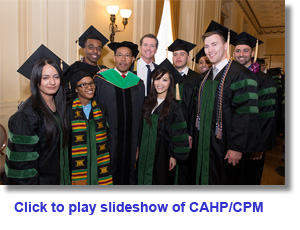 "I always knew I wanted to do more, to be more involved in actual care, rather than just following orders," she said of earning her master's degree. "I'm excited. I have my own community of patients. We know and trust each other."
Later that day, at ceremonies for the College of Veterinary Medicine (CVM), keynote speaker Clinton A. Lewis, MBA, Executive Vice President and President-U.S. Operations for Zoetis, said he was optimistic about the future for animal health care providers, despite forecasts to the contrary.
His optimism is grounded in a number of important trends: A growing middle class in emerging markets leading to an increase in the number of pets; a greater focus on safety, security and transparency in the food supply; and an aging population that is also increasing the desire for animal companionship. All bode well for veterinarians.
"Instead of an excess capacity in the profession, I believe we have an underappreciation of the tremendous opportunities that exist today and will exist tomorrow for veterinarians," he said. "WesternU has prepared you exceptionally well to face the challenges of today and realize the opportunities for tomorrow."
Audrey Keebaugh, DVM '15, said WesternU CVM's third- and fourth-year rotations provided exactly the kind of broader perspective Lewis mentioned in his address. "I got such an opportunity to travel and get a ton of fun and interesting experiences in the vet field. I think that's what's stood out to me these past four years."
Apart from the tributes to Dr. Pumerantz and his family, the COMP/GCBS ceremony on May 22 featured inspiring words from Vice Admiral Matthew L. Nathan, MD, Surgeon General of the Navy, who told the graduates to appreciate the process as they embarked on their professional health care careers.
"Savor the journey. You're so focused on the destination … But savor the relationships you've made along the way, and savor the relationships you'll make in the future. You must recognize that there is an unassailable bond between you and those you care for. Embrace the human relationship. Make a difference. Give of yourself.
"Be memorable."